Need a silver lining? While many of your plans for 2020 have been derailed, including in-person events and trade shows, you now have all kinds of time to plan, prepare and perfect your trade show display and experience for when business gets back to normal. That doesn't replace what we've lost this year, but you can get a headstart and do everything possible to hit the next trade show floor running and make an excellent (and lasting) first impression. According to Display Wizard, 22% of businesses start planning two to four months before they attend a trade show. Effective marketing does not happen overnight.
If you have downtime, don't let it go to waste—focus on these four aspects for ultimate trade show success.
Trade Show Display Graphics
Think bright colors and bold graphics, baby. Drawing more attention to your booth leads to more people stopping by. Reel attendees into your space by creating an open and inviting trade show booth incorporating stand-out colors, movement and sound. If possible, also create an area where visitors can chat with a salesperson or company rep comfortably.
Trade Show Promotional Items
Everyone loves free swag, and giving a memorable trade show giveaway can keep you on people's minds—maybe even make you the talk of the trade show. Fridge magnets and branded pens are great, but also think outside the typical promo items: branded candy bars or lollipops, reusable grocery bags, small hand sanitizers, phone screen cleaners, lip balms, travel coffee mugs. Brand your trade show giveaways with your name and logo, of course, but also add contact info, if possible, including a phone number and URL.
Trade Show Printed Materials
Once your customers step onto the trade show floor, it's sensory overload—so many brands are competing for their attention all at once. It's almost impossible for any trade show attendee to remember all the details they see and hear as they walk to the floor, so put your main messages in writing and create takeaways. Printed brochures, flyers, product guides, postcards or packets of materials let customers take you back home with them so they can dive deeper or reach out for more information when they're ready to make a purchasing decision.
Post-Trade Show Follow-up
After the show, take time to email, call or send a direct mail piece out to your trade show leads. Remind them how to take the next steps to engage with you, whether it's setting up a free demo, scheduling a call with a sales rep, subscribing to your newsletter, even just visiting your website for more information. Pro tip: Adding variable data to personalize your mailers can increase your response rate. 86% of consumers say personalized marketing leads to a buying decision. (Infosys)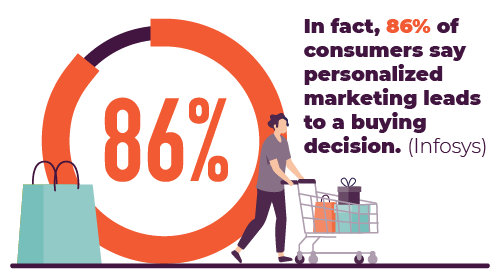 Now, here's the best news: Firespring can help you with all of this and more—and we're all hands on deck right now, working to elevate brands, businesses and nonprofits during this chaotic year of ups and downs.
If you're not sure where to start, put our trade show and marketing experts to work for you. We'll see where you're at and what you have, then make recommendations to get your trade show game ready for the next time you hit the trade show floor.
Get started on your next printing project by telling us what you need or ask questions about how we can help.