Our print production team is full of some of the most experienced professionals in the biz. These are the folks who print, perfect, bind, cut, glue and fabricate all the printed materials Firespring produces. However, the term "print production" barely skims the surface of the intricacies that go into taking a project from conception to completion. There are a number of departments which all work together in creating printed materials for our clients.
This week, we talked to our VP of print production, Travis, to learn more about his team, their specific roles and how they combine forces to create the powerhouse crew we know and love.
Print Production Departments
The production team consists of 26 individuals who fall into one of the following departments: Pre-press, offset printing, digital printing, bindery, fulfillment, shipping/delivery and quality assurance.
Pre-press is responsible for taking the client-approved artwork and imposing it for a digital or offset press to be printed.

The offset and digital press operators are responsible for the actual printing of each project while adhering to quality standards and customer specifications.

Bindery is the finishing process of the printed project. So cutting, folding, booklet making anything that is done after a project is printed.

Fulfillment is the process of gathering pre-made kits or other items owned by the customer to be shipped out to a specific location per customer instructions.

Shipping/delivery is exactly what it sounds like. These folks are responsible for ensuring all orders are complete, ready for shipping and have clear delivery instructions and destinations.

The QA team make sure orders are correct and the shipping/delivery team gets the product to the client.
Print Production Machinery
Each of the individuals in our print department is cross-trained on as many of the print floor machines as possible. This helps for a couple reasons, but mostly it helps our employees when emergencies come up in their personal lives because there's always someone to have your back.
This means all 26 print production team members will eventually learn to operate digital and offset presses, large paper cutters, folders, booklet makers, coil binding machines, windmill presses (for embossing, die cutting and/or foil stamping), signage printers and cutters.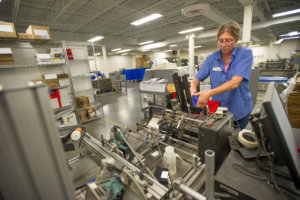 Print Production Communication and Quality Assurance
All this work takes a lot of communication, especially between the day and night shifts. Travis explained, "We have two production meetings a day, one in the morning with the first shift department heads and then one later in the day with the second shift manager and department heads. We also utilize a printed WIP (work in progress) report that is distributed daily. Slack and verbal and written communication on the back of job tickets are also crucial."
The reason communication is key to each print project is to assure quality at every stage. Travis states, "Every team member is expected to take personal responsibility for any project they come in contact with, and with an average of 24+ years experience each we know what to look for." In addition to checks at each stage of its creation, each piece is checked before it leaves the shop to ensure it's picture perfect. Since print trends are moving toward small quantities of highly personalized printed materials instead of bulk projects, teams like ours are excited to work on all the amazing projects likely to arise over the next five, 10 or 20 years.
Well there you have it! Thanks for taking an interest in the Firespring print production team—they deserve recognition for all the amazing work they produce.
 See all our print capabilities