At Firespring, we love an eye-catching print piece or a bold advocacy campaign (they're basically our bread and butter) and nothing makes us happier than when our creations connect with clients' audiences. And something special happens when we can integrate our wide variety of marketing abilities into unforgettable experiences.
We're always on the lookout for opportunities for our clients to connect with their audiences in real life—shaking their hands, knowing their names, putting a face to their brand. When those invaluable chances appear, we go all in to maximize their event marketing. 
There's nothing like the power of face-to-face interaction to build relationships between brands and people. The impact of a positive interaction is why we care so much about our event marketing offerings. From ideation to strategy to metrics, we have our clients' backs the whole way.
In October, Firespring teamed up with our client Nutrien Ag Solutions to create a fun, immersive booth for the Future Farmers of America (FFA) National Convention & Expo, the largest gathering of students and agriculture professionals in the country. We had such a blast developing this event—let's dig into how we got it from concept to concrete results.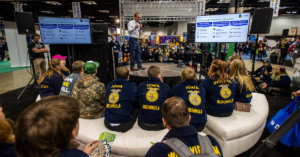 The magic's in the details.
Our work was cut out for us—get 70,000 high schoolers, ag educators and industry professionals to know what Nutrien Ag Solutions does while competing for their attention in a huge expo. We also wanted to amplify Nutrien Ag Solutions' grant program for FFA chapters by landing media placements about their support of FFA.
After ideating with the client, we decided to draw attendees into the booth with games and photo ops (a real NASCAR vehicle and its driver!) then incentivize them to stay and learn about Nutrien Ag Solutions.
Firespring's Nutrien Ag Solutions team launched into action. Designing the layout and programming for a booth the size of a small house included a whole lot of moving parts. Once all of the games, set pieces and giveaway items were ordered, we developed a strategy to get visitors to complete the activities.
To encourage engagement, we created and printed an activity passport. Every booth visitor received a passport, and then got a stamp when they completed an activity. Four stamps won them a collectible diecast of the official Nutrien Ag Solutions sponsored NASCAR racecar.
In the weeks leading up to the expo, we coordinated booth volunteer schedules, secured video opportunities and locked down every detail to ensure Nutrien Ag Solutions' FFA presence would not only go off without a hitch—but make a real impact.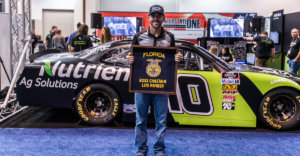 The day before the expo, the Firespring team worked with the Indianapolis Convention Center to get the booth set up and squared away. Once the expo opened and tens of thousands of people poured into the convention center, Nutrien Ag Solutions and all their Firespring helpers were ready to wow the crowds.
Each of the expo's three days brought countless ag students to the Nutrien Ag Solutions booth. With activity passports in hand, they signed their names and chapters on a real car hood, played the NASCAR simulator, tried to change a racecar tire, filled out a contact information form, shared their fun on social media and best of all—actively participated in the booth's educational presentations.
To increase presentation engagement, the Firespringers working the booth thought on their feet. When visitors started asking how they could get an exclusive Nutrien Ag Solutions corduroy hat, we said they could come back for a presentation and answer the presenter's questions. This simple idea drew dozens more people to each presentation and dramatically boosted participation.
Our real ace in the hole relied on many FFA students' affinity for NASCAR: Ross Chastain, Nutrien Ag Solutions' NASCAR driver. Firespring arranged for Chastain to sign autographs, take pictures and discuss Nutrien Ag Solutions with a delighted audience. 
After the last attendee left the expo floor, the Firespring team tore down the whole booth— ensuring everything was packed up and shipped off properly.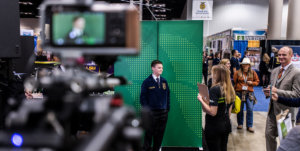 Real impact from real interactions.
This giant event offered endless opportunities for comprehensive marketing tactics. Our dedicated strategic planning combined with quick, in-the-moment thinking created an exciting environment for our client to make authentic connections. And here's the cool thing about authentic face-to-face marketing—it gets results.
Nutrien Ag Solutions at the FFA National Convention & Expo by the numbers:
179% increase in Nutrien Ag Solutions awareness among expo attendees.

12,738 pieces of Nutrien Ag Solutions merchandise in the hands of ag students and professionals.

5,500 activity passports distributed.

621 email addresses collected.

69,099 Instagram impressions.

1,525 Instagram engagements.

512 presentation attendees.
On top of the buzz we created during the expo, we seized the expo's unique opportunities to set Nutrien Ag Solution up for future success. Our public relations team arranged for FFA chapters that won Nutrien Ag Solutions' grants to meet with media outlets to discuss how the grant program promotes ag education. We also captured 13 inspiring, emotional video testimonials from grant-winning FFA chapters for future campaigns.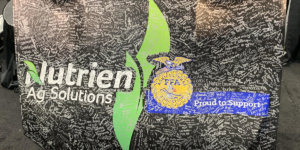 So if you're looking for someone to help make your next event a marketing grand slam, Firespring's got your back with vision and strategy expertise. We'll help set you up for successful interactions with your event attendees, no matter the size of your event. And if you're supplementing your event marketing efforts with print souvenirs or web design, we can do that for you too. Have a question or want to know more about how we can help you achieve your goals? Contact us today.