If you know anything about Firespring, it's probably got something to do with our people. The company culture we've built here is—in our humble opinion—one of the most impressive pieces of our organization.
When you're deciding how to build company culture, you've got to start with your people. That's what we did at Firespring by creating our company Culture Club. These are the folks who come up with all the awesome events throughout the year to build an atmosphere of fun and productivity and let each personality in the building shine.
We just wrapped up one of our favorite team building activities—our bowling night, Gutterfest—and decided to celebrate the 12th-annual event by talking about the culture of Firespring. DJ Dirksen, Culture Club (CC) president, and Allison Mellick, one of the newest additions to our team, took some time to talk about their takes on Firespring's company culture and its importance. Hear from a long-time vet and a newbie about what building a good company culture looks like here at Firespring.
As the saying dictates, "age before beauty," so we'll start with DJ.
What's your role at Firespring?
I'm a product manager for the St. Baldrick's Foundation team.
How many reps are on the company Culture Club and how often do you meet?
There are 11 of us and we meet every two weeks.
What types of things are discussed in CC meetings?
Culture Club talks about everything from team member feedback and suggestions to team morale to company policies and upcoming events.
How did the annual tradition of Gutterfest start as one of our company culture ideas?
It started in 2007 as a way to get everyone together and out of the office. Now, we rent out Parkway Lanes for an entire evening every year and end the night with some sweet karaoke and pizza courtesy of Ramos.
Why is it important to you to serve on CC?
I enjoy listening to the suggestions and feedback we get and working to make Firespring an even better place to work.
What's the most meaningful thing you've done in your tenure as Culture Club president?
Over the years, we've done a lot of awesome things. Creating situations where people get a chance to interact with others they don't work with on a daily basis is probably my favorite part of serving on CC.
What events are you most looking forward to this year?
I can't pick just one. There are several events that are special in different ways. Gutterfest, Souptacular, Thanksgiving, Holiday Party, The World is not E-nerf*—I could go on and on.
What are the elements that make a good company culture?
Relationships are one of the key factors in a strong company culture. If people can't trust their teammates to do the right thing or to have their back, the culture will always struggle. That can seep into your work too. If you don't like the people you work with, will you do your best work? Probably not.
What was your first impression of the culture at Firespring?
I thought it was amazing because it was fast-paced and fun. Combine that with good people who care about both their work and their coworkers, and it makes for a truly special place.
How many years have you worked at Firespring and how has the work environment changed throughout your years here?
I've been here for 12 years, and in a lot of ways our culture is still the same. We are a larger company now, so it's harder to know what everyone is up to and have that personal connection with everyone. I'd say that's the biggest change.
It's always nice to hear from a Firespring vet—but we understand the folks who have been here the longest may also have some bias about how much fun we have. Here's how Allison Mellick, a recent addition to the Firespring team, answered a similar list of questions.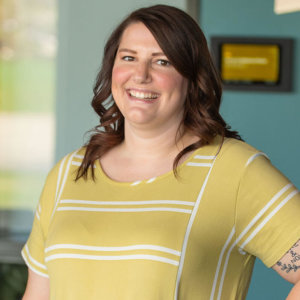 How long have you been working at Firespring and what's your role here?
I've been working at Firespring for a month and a half as a client on-boarding specialist, so I help new clients set up their new site and learn how to use our Springboard software.
What was your first impression of the culture at Firespring?
My first impression of the culture at Firespring was surreal. As I was leaving my second interview, I had to walk through the kitchen on a Friday afternoon. There were so many people standing around the island for a nacho bar, beers in hand. Coming from a background where my coworkers and I practically ran out of work as soon as the bell rang for the weekend, I couldn't believe how many people were still hanging out on a Friday afternoon.
How is the culture here different than other places you've worked?
Firespring is a family. I loved my old coworkers, and I made a lot of my closest friends in previous positions. But I've never worked in a place that is as back-having and shit-giving as Firespring. Everyone I've interacted with so far truly cares about the work that he or she is doing and is so willing to help me as I figure things out.
What's your favorite part about Firespring's company culture?
My favorite thing about Firespring's culture is the daily Firestarter meeting, and general "You've got this!" attitude that resonates in the halls here at Firespring. It's so encouraging to see how people are living out Firespring's values each day, and how each person here is affecting, influencing and encouraging coworkers.
How was your first experience at Gutterfest?
Gutterfest was awesome! I had no idea what to expect, and I'll have to admit I was a little nervous as I drove to the event since I didn't really know anyone on my lane. But I made so many new connections and friends throughout the night! It was great.
What event are you most excited to take part in this year?
Honestly, I don't know what many of the events are that Firespring will do throughout the year… but from what I've seen on social media, I'm excited for all of them.
What does it mean to you to work at a company that takes time to craft, facilitate and care for its culture?
When I set out to find a new job, I knew it wouldn't be easy. I loved my job, and the staff that I worked with, but I was also underappreciated in my position. I didn't know what kind of position I was looking for, but I knew I wanted to work for a company that made a difference. Firespring checked all the boxes. It is so incredible to work for a company that cares not only for its employees and clients, but also for the community as a whole—and a lot of that can be attributed to a good company culture.
Well there you have it, that's our culture from a couple insider perspectives.
See More Firespringers' Opinions
*The World is Not E-nerf is the 2019 edition of Firespring's friendly assassination game. Watch our social channels in June to learn more about this event.