Boo at the Zoo is Lincoln Children's Zoo's largest fundraising event of the year—tickets nearly always sell out. It's an event that requires lots of sponsors, volunteers and planning to create the ultimate merry-not-scary Halloween experience for local families. Firespringers love to volunteer at this event, but Firespring's recruitment specialist Kasey Sendgraff is the volunteer-extraordinaire who brings us all together. She's the person in charge of Firespring's sponsorship at Boo at the Zoo, and the one who makes sure all the fall fun goes perfectly.
At work, Kasey helps people achieve their career dreams through recruiting and development. As the lead coordinator of our Boo at the Zoo exhibit and volunteers, Kasey plans, preps and organizes every aspect of Firespring's participation in this flagship event.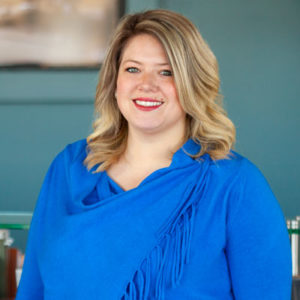 "I've been volunteering my time for the Boo at the Zoo event for the last four years, and have been heading up our sponsorship efforts for the last two," Kasey said. "Firespring has such a big presence at this event, so it's cool to represent Firespring and help make the zoo's event a success."
In order to maximize Firespring's involvement with such a beloved community tradition, Kasey attends meetings with Zoo staff and other local businesses, recruits Firespringers to volunteer and plans and creates the theme for our trick-or-treat booth. She also helps set up and tear down the exhibit, which was LEGO themed this year. Kasey has plenty to juggle, but she tackles it all like a pro—even as COVID-19 restrictions added an extra layer of planning and coordination.
"Due to the pandemic, Boo at the Zoo was spread out over the course of eight days instead of the usual five days to decrease crowds," Kasey said. "Over those eight days, we got about 8,000 guests through our booth. On any other year, however, this event sees an average of 17,000 guests total. Still, it's good to know we followed every protocol to keep our visitors safe."
Kasey's creativity and resourcefulness shine through challenges, and she is committed to making our exhibit as fun for everyone as possible, including the volunteers.
"It makes me proud to know that I've been a part of something that brings happiness to others," Kasey said. "This year was even more special because for many families, this was the only form of trick-or-treating they participated in."
Thanks, Kasey, for all your work coordinating our sponsorship and getting fellow Firespringers involved—your work brings a lot of joy, especially this year. We appreciate you!
Kasey is just one Firespringer giving her time in meaningful ways in our community. Through Firespring's Power of Three program, all full-time team members volunteer their time every month for organizations that align with their personal interests and passions.