We are in strange times. There's really no other way to put it. Your traditional fundraising events are looking quite different than what you're used to. But that's okay—it doesn't have to be a bad thing. Think of it as a fun challenge instead.
Your event needs adapted, but it likely doesn't need to get canceled. Let's think about how to relocate your fundraiser to a virtual space.
How to move your nonprofit's fundraising event online.
Galas, luncheons, cocktail receptions and other typical fundraising events have been canceled due to our lovely friend, COVID. Let's focus on how to run an offline event online.
1. Pivot your strategy to build connections and entertain.
Think about it: How do you spend most of your time on your digital devices? Yes, the internet is great for gathering information, but I'm willing to bet you're using a good chunk of your time on relationship building and entertainment. In fact, according to MIDiA Research, the average person spends at least 4.5 hours per day on digital entertainment.
Your audience expects to connect with others and be entertained when they're online. So, it makes perfect sense to pivot the strategy for your fundraising event to fulfill your audience's expectations. A Facebook event is a great way to nurture communication and interaction with one another without bogging down someone's social feed.
Consider reaching out to influencers who you were planning to have speak at your in-person event. For example, say that I was lucky enough to be hosting an event where Warren Buffet was scheduled to speak. I would maybe say, "Hey, Warren! Would you mind doing a livestream for us where you'll answer 10 questions about anything that people want to ask you?" Now, you've created something that people will want to see, they get to be connected to him, maybe you could even sell admission to that livestream.
2. Create a virtual team for your fundraising event.
Just as you would assemble a team to get your in-person event up and running, you'll need a virtual team for your fundraising event. Here are some ideas of roles you'll want to assign:
Data Specialist: Somebody who pays close attention to the types of people you're engaging, how they are engaging and what they are engaging with. This person is constantly looking at how you are doing to hit the performance goals you have set in place for your fundraising event.
Content Generator/Curator: This team member is focused on creating and curating content so they can really generate excitement around your fundraising event.
Communications Lead: Responding to people. Tagging people. Your communications lead keeps a finger on the pulse of the event and gives a human, warm voice to the conversation.
Production Lead: Incorporating video, images and graphics into your fundraising event to help promote it and bring it to life is an important role to help bring a virtual event to your audience.
Host: As the MC of your digital event, your host can interview people and livestream, deliver the ask for donations, bring personality and a face to your donors—all enticing your audience to give. Think intentionally about who your host should be. It can be someone either inside of your organization, or someone outside of it with knowledge of and passion for the work you do.
3. Leverage Facebook.
69% of U.S. adults use Facebook, of which 74% use Facebook every day. Not only is that a whole lot of opportunity to reach and engage new people, but it's also extremely likely that your current audience will be able to access your online fundraising event easily.
Think about how you can leverage Facebook events to really make your fundraiser a success. The beauty of a Facebook event is that it pulls everything into a format that doesn't bombard your followers in your feed—keeping everything organized and together. Facebook ads can draw awareness to your online fundraising event and what you're trying to achieve. With Facebook grants, you can apply to get your ads covered. The community reach within Facebook is a powerful component in getting people who are attending your event to share that information quickly and easily with their own friends.
4. Engage your fundraising event's sponsors.
Sponsors typically help cover costs of the room, rental equipment, food and anything else needed for an in-person event. Now that your fundraising event has adapted, how can they support you in an online space? Take a peek of a few ideas:
Match donations.
Provide entertainment value with stories about sponsors supporting your nonprofit organization.
Give them extra #love with shout-outs on social media before, during and after your event. This will keep them happy and willing to sponsor another event with you.
5. Move your auction online.
You don't need to cancel your live or silent auction just because your fundraising event is going digital. These can all be facilitated online. In fact, I just participated in one not long ago. I got my text alerts throughout the day letting me know if I'd been outbid, which kept me engaged and the event top of mind.
A big benefit of an online auction is that you can have it open for an entire week versus just for a few hours in the evening during an event. If you're still looking for an in-person experience in an online world, livestream your live auction!
6. Engage your community to maximize your fundraising event.
Lastly, focus on how you can engage your community. Think about how you can get your top donors to post about your fundraising event on your behalf. Encourage people after they've donated to share that they've supported your organization. Connect with influencers in your community and ask them if they'd help raise awareness for your nonprofit's mission.
You know what they say, "it takes a village to raise a nonprofit." Don't be afraid to reach out for help. You might be surprised by the outpouring of support you'll receive.
Keep your fundraising moving forward.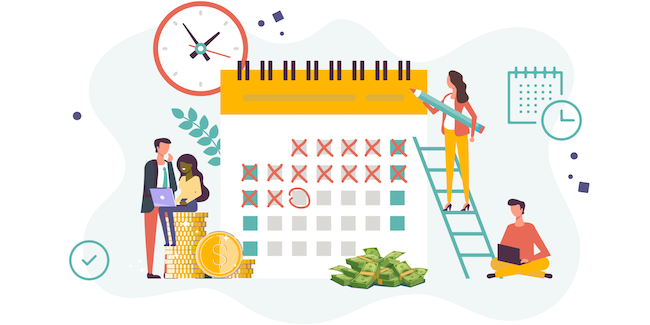 To overcome the challenges of fundraising during today's circumstances, Firespring created an integrated marketing package that's designed to get all your marketing channels working in sync. This will help you develop an affordable but effective online fundraising event strategy and get your next digital event up and running within 72 hours.
Set your fundraiser up for success with our Digital Fundraising Campaign marketing program, including everything you need to engage your donors online—from event strategy to promotional materials to social posts to a space for your event to live online.
This time of constant change calls for thinking differently about how you approach fulfilling your mission. Don't sit back and wait for the next curveball life throws—do what you can with what you know now. One thing you can count on: We're here for you.