The rise of Instagram Stories is accelerating at such a rapid pace that at some point this year, according to Facebook, Stories are expected to out-pace Feeds as the primary means of social media content consumption.
So how can your nonprofit use Instagram Stories to build momentum toward a successful giving day in 2019?
Here's how.
Determine a consistent thread of stories that you can tell throughout the year.
Try and think of the category of story you can tell at least, let's say, a dozen times. Preferably more than that. Often times, the best approach is your people. Pull out a blank sheet of paper, or open up the Notes app on your phone, and make a list:
Our top volunteers
Charismatic kids in the program
Clients who have succeeded in our program
Camera-friendly staff members
Any one of these categories would work great. Think about the stories that best represent your organization. Again, it's a great strategy to focus on your people, but it doesn't have to be people-based:
Animals we've served
Pieces of art that adorn our walls
Memorable dates in the history of our program
Places around the community where we offer services
I need you to think creatively and strategically here about a THREAD of stories that you can tell on an ongoing basis. Write them down.
Determine how frequently you can tell one of these stories.
On a calendar, either digitally or printed out, divide equally between now and your giving day. So if you're in Louisville, and your giving day is in mid-September, you have roughly 100 days (as of now in June) to go. If you had set your plan in motion, let's say, the first week of January, you could take your list of 30 stories and plan to tell just one story per week leading all the way to Give for Good Louisville.
(Quick aside: I DEFINITELY do not think you can start a protracted strategy like this 'too early.' That's the digital equivalent of saying you don't want to exercise yet because you won't have to don that bikini until June—sure, you can wait as long as you want to get started, but the longer wait, the more difficult it's going to be in the long run.)
I strongly encourage you to start your long-term strategic approach with a big-picture look at the inventory of stories that you can tell. By knowing in advance what content you're going to create in future installments, you'll feel much more comfortable building toward those stories that lie ahead. You can even reference them conversationally as you go along. And most importantly, your audience will become accustomed to your style, delivery and frequency—listening to these stories will become habitual for them.
I want you to check out this episode of The Write Podcast, which I recorded earlier this year with Julia McCoy, CEO of Express Writers in Austin, Texas. We talk extensively about the importance of taking an episodic approach to your content strategy, and I think it'll truly inspire you to embrace the episodic model.
Record your stories.
This might sound like the hard part, but once you get accustomed to conversationally using Instagram Stories, you'll find that it is, in fact, quite simple. Don't overthink it: If you can point your phone at yourself and talk for 15 seconds at a time, you can tell a story.
Don't be afraid to start simple, although there are plenty of ways to 'get better,' so to speak, at creating Instagram Stories: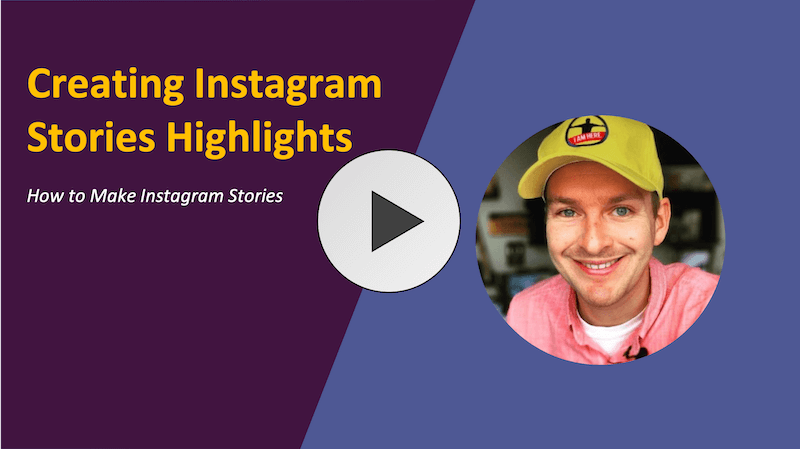 Watch the video.
Use Instagram Stories' highlights feature to create a living, breathing gallery of content on your profile.
This is the real key to a successful IG Stories strategy for your giving day, because you'll want your new donors and followers to be able to easily access ALL of the stories that you're creating. For a great example of how a nonprofit can catalog its best Instagram Stories, check out @metrounitedway—the Metro United Way, based in Louisville, Ky., or @salarmychicago (The Salvation Army Chicago). When new donors come to check out your Instagram page, they'll see your Instagram Stories highlights lined up across your profile, and they'll be able to browse and dive in to check out your stories before committing to make a donation. It's critical to use highlights if you're creating an episodic model where you aren't posting every day, because by having those highlights around, new followers will be able to check out stories from you any time they want. You can also check out my Instagram Stories highlights on my profile, @ChrisStrub.
I talk extensively about Instagram Stories highlights right off the bat at LearnIGStories.com—it is far and away the most important feature that Instagram has added in 2018. By leveraging highlights, you'll be able to keep all of your nonprofit's best stories at the top of your followers' minds year-round and build a powerfully engaged audience that will be thrilled to donate to you once your giving day finally rolls around.
Is your nonprofit leveraging Instagram Stories and stepping its game up with IG Stories highlights? I'd love to check out your work. DM me on Instagram—@ChrisStrub—and I'll be happy to take a peek.
This article was written by the Giving Day Guy, Chris Strub. It originally appeared on GivingDayGuy.com. Learn more from Chris with his set of online courses here, and get a copy of '50 States, 100 Days: The Book' here.