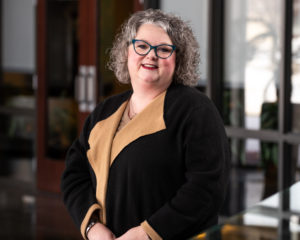 Meet Kiersten Hill, Firespring's new director of nonprofit solutions. She joins our team with exceptional qualifications. Kiersten has spent almost two decades working with nonprofits in management or fundraising and has advised countless others. According to Kiersten, "I've been the executive director who wears every hat in the shop, and I've also been focused solely on fundraising. I've applied for grants and reviewed applications for grant distribution. I've seen the ins and outs of virtually every side of a nonprofit operation. These experiences combined with a marketing background make me perfectly poised to help nonprofits learn more and achieve greater success."
One of the hottest topics in the nonprofit space is event planning, and especially how orgs have had to adapt in light of the yearlong pandemic the world has endured. We sat down to ask Kiersten about some of her thoughts on nonprofit events and how she believes 2020 has changed the landscape as we move forward.
For many nonprofits, events are central to their fundraising efforts. What are three general things you've learned from experience that make for an impactful event?
I believe that every great event should start by determining how you want your attendees to feel when the event is over. Do you want them to feel uplifted and hopeful, or touched and emotional? Every event should build to that conclusion. So, I'd start there, then keep these three things in mind:
Every event should be well-planned and organized. You can provide the very best content, but if a guest doesn't know where to park, how to enter, can't hear the speaker or find a trash can, their experience is tainted.
The event has to be true to your mission. No one should leave your event without a clear understanding of who you are and how you do your work.
Every guest should come away from the event knowing that they are appreciated. You can't say thank you too much. Their time, attendance and commitment to the mission must be recognized and celebrated by the organization.
When it's over, reflect: Leave time at the end to review the event from conception to follow-through. Make notes for what should be repeated, what should be scrapped and what should be added in the future.
The pandemic has created obvious roadblocks for in-person events. What advice do you have for hosting virtual events?
Like in-person events, virtual events need to be well organized and well produced. They should be short but powerful and packed with information to keep the viewer engaged. But you need to make everything from invitations and registration through conclusion as simple and user-friendly as possible. For example, always gear the tech toward your elderly, crabby, luddite great uncle. If he can get on and have a good experience, everyone else will too.
Make sure there's a hook or a reason for someone to attend, maybe a special announcement, a unique speaker, a behind the scenes tour or interview—something that people will really miss out on if they can't attend the event.
And never accept a Facebook "yes" as a confirmed attendee. Virtual events have higher rates of no-shows, particularly if they're free. So, make sure the size of your guest list accounts for potential no-shows to ensure you have enough of the right people to generate your income goals.
And finally, consider a match for your give or general ask. Donors love to think of their money going further and accomplishing more.
How do you think the past year has changed the landscape for nonprofit events?
I'm going to be really curious to see if and when in-person events return. I think there will be a spike in attendance for a while as everyone is excited to get out of their houses and be with people. But, I do believe that we will see the pendulum swing back, and virtual events are probably here to stay in one form or another. Watching a fundraiser on your couch in your jammies can be a real perk.
For nonprofits who are uncomfortable with technology or feel like they don't have the know-how to pull off a successful virtual event, what advice would you give them?
Find someone who is comfortable with the technology. Find volunteers or hire experts to help you pull together successful virtual events. Make sure you rehearse the event in advance to ensure all the technology works.
Also, plan for the unexpected. What happens if the power goes out, you lose the internet connection, someone can't log on, etc.? It does not have to be a Spielberg-directed masterpiece, but having no event at all is better than a poorly executed and boring virtual event.
How are you poised to set our nonprofit clients up for success, especially as we emerge from this pandemic that has shut so much of the country down?
I want to have fun and help our clients exceed their wildest expectations! I want to provide quality information and education without expectation. And, I want to see nonprofits succeeding by implementing the very best strategies, using the perfect tools, sending the most stunning mail and print pieces, interacting with supporters through beautifully functional websites and building the most wonderful, thriving communities. We have all of the tools here at Firespring to help existing and new clients make these dreams a reality.
Welcome to the Ultimate Nonprofit Event Planning Checklist.
Speaking of tools, we have a free one for you right now: Hot off the presses, it's our new Ultimate Nonprofit Event Planning Checklist, designed to keep your to-do list organized and your brain from melting down over all the details. Grab your free copy here to make your next event your best event.