One of the best things you can do for your organization is to create a donation page that converts. That's why it's important to be sure they're well designed, clean, easy to navigate and optimized for your donors to take action. You'll boost online giving and secure repeat donors with these 8 easy tips for creating donation pages that really work.
1. Create a donation page that looks like you.
By that, I mean your donation pages should look like the rest of your website and any offline marketing materials that your donors might recognize. They should be more than just a form; it's important to brand donation pages correctly and continue reinforcing your mission, your need and why you're a credible organization. Don't assume you've sealed the deal by the time donors land on a donation page—they haven't actually donated till they've clicked that button.
2. Don't ask for more information than you need.
Get rid of unnecessary fields on your donation form. The more information you ask for, the lower you'll drive your conversion rate. Try it yourself: Go to your site and try making a donation. Is it painless or is it a pain? Simplify the process if necessary and make it easy for people to give.
3. Clearly ask people to give on your donation page.
This might seem obvious, but a donation page is not the place to be shy about asking for money. These few things have been shown to increase donation amounts:
Display buttons with suggested donation amounts.
An "other amount" option for people who want to give less or more.
A recurring gift option, especially helpful for those who want to give more over the course of the year.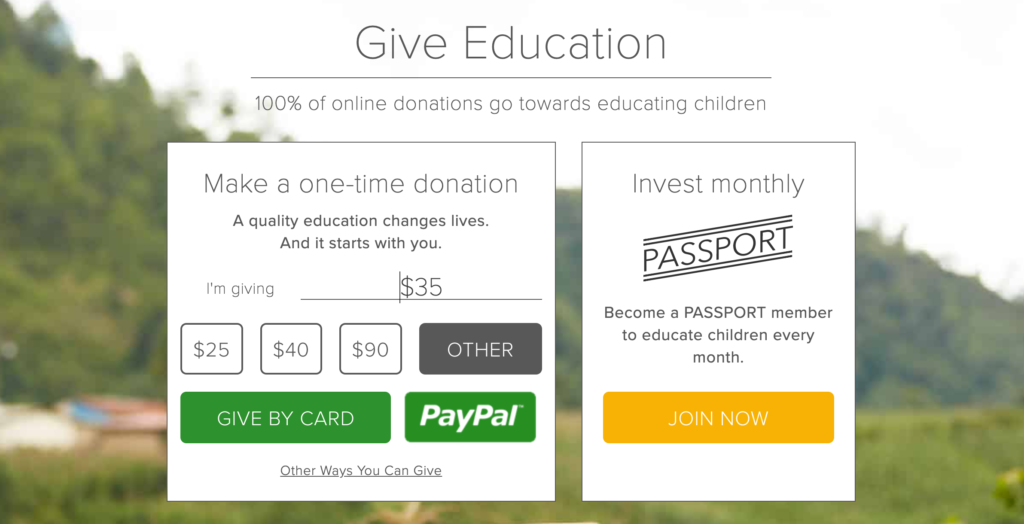 4. Have one single call to action.
You may also want your website visitors to sign up to volunteer, read your mission statement or watch a video, but not when you have them on a donation page. Keep them focused on the task at hand with one call to action that asks them to make a gift. The rest can come later.
5. Use your donation page to create an emotional appeal.
If I'm still deciding which organization to support, I may land on your donation page unconvinced. You have the opportunity to capture my heart—and my money—with engaging, emotional images that represent your cause. Hint: This doesn't include spelling out your mission statement. A compelling image or video on your donation page is worth more than a thousand words; it can be worth a new donor. Check out how one of our clients created their donation page for their fundraising campaign.
6. Tell donors why they should trust you.
Don't assume that everyone who lands on your donation page knows what a stand-up, reliable nonprofit you are. If I'm a new donor and I'm not familiar with your organization, seeing your Charity Navigator or BBB Wise Giving Alliance charity seal will make me feel more secure and therefore more willing to give you my money.
7. Differentiate yourself on your donation page.
Donors see hundreds of marketing messages a day, asking for their money from some company, organization, website, etc. You're not just competing for donor dollars with other organizations in your sector; you're competing with everyone who wants a piece of the pie. Convert visitors into donors by explaining why your organization should be the one who gets their money. Tell in clear, simple language how the money is spent. Feature a testimony or two from passionate supporters. Do what you can to set your nonprofit apart.
8. Optimize your Donate Now button.
Not all call to action buttons are created equal. Large and colorful buttons that look clickable and feature active language outperform buttons that are small, gray and include generic language (like "submit"). Use words like Donate Now or Give Today. Display the button prominently on your donation page. And again, don't surround it with several other calls to action. Your Donate Now represents the sole reason your visitor is on the page.

Need help building a donation page? Sit back, relax and enjoy our free webinar: Online Fundraising Performance: Does Your Nonprofit Measure Up? You'll receive insightful tips, ideas and action steps to boost your online fundraising.
At Firespring, we provide everything you need to launch online fundraising campaigns that are optimized for high conversion. Ready to get started? Call 877.447.8941 or email hello@firespring.org.