Free educational webinar brought to you by:

Philanthropy as we know it has changed. New virtual tools have created new avenues for human connection, and fundraisers are faced with the challenge to deepen relationships with their donors in a quasi-virtual climate. As a fundraiser, you may have gained new donors with whom you have only connected virtually. Or, you may have discovered new donors in your database with whom you have never connected. How do you introduce new prospects with your organization and connect with your existing donor base? The good news is you can still develop strong, authentic relationships with your donors in a virtual or hybrid format.
In this webinar, we will discover how you can reignite donor relationships through thoughtful questioning and listening. Fundraisers have the opportunity and privilege of connecting with people, discovering what they truly care about, learning their personal stories, and connecting them with meaningful causes. Join Muhi Khwaja and Fundraising Academy Cause Selling Education so you can confidently engage your supporters and convert them into lasting champions for your organization.
In this webinar, you will: • Discover the key contributors to a strong first impression. • Review fundamental questions that will help uncover your donor's "Why."
No Results Found
The posts you requested could not be found. Try changing your module settings or create some new posts.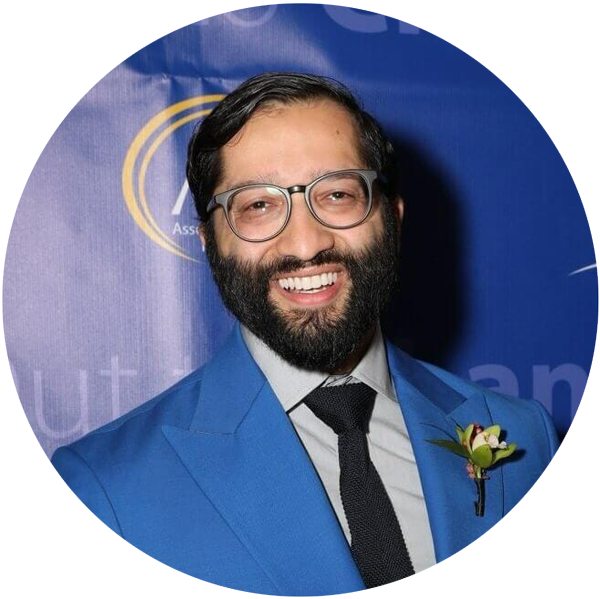 Muhi Khwaja, MPA, CFRE, CFRM
Muhi Khwaja, MPA, CFRE, CFRM Title: Trainer, Fundraising Academy and Co-founder & Director of Development and Philanthropy, American Muslim Community Foundation
Earning a Bachelor's in History and Psychology from the University of Michigan-Dearborn in 2009, Muhi Khwaja didn't know what to do until the summer before graduating. The Development Summer Internship Program at the University of Michigan sparked an interest in fundraising (development) as a career. After working with several nonprofit organizations, he earned his Master's in Public Administration in 2013, from U-M, specializing in nonprofit management. Muhi has over a decade of experience as a development professional with several nonprofits including: University of Michigan, University of Michigan-Dearborn, Council for American-Islamic Relations – Michigan, Islamic Relief USA, Institute for Social Policy & Understanding, Ta'leef Collective, Islamic Scholarship Fund, Indian Muslim Relief & Charities, Center for Volunteer & Nonprofit Leadership, Our Three Winners Foundation, Notable Music & Arts Organization, the American Red Cross, and Environmental Data & Governance Initiative which all led to his founding the American Muslim Community Foundation.
In 2016 he became a Certified Fund Raising Executive from the Association of Fundraising Professionals and in 2017 earned a Certificate of Fund Raising Management from Indiana University's Lilly School of Philanthropy where he is also Adjunct Faculty. Muhi is also pursuing his Graduate Certificate in Philanthropic Studies from Indiana University and is expected to complete it in 2022.
Muhi served as the Director of Development & Philanthropy at AMCF from 2019 to 2021 and worked with donors to connect them with nonprofits creating impact, helping families distribute more than $6 million. AMCF serves as a the only national nonprofit organization focused on creating Donor Advised Funds, Giving Circles, distributing grants, partnering on fiscal sponsorships, & building endowments for the American Muslim community. He also hosts the #MuslimPhilanthropy Podcast.
Muhi went on to become the Chief Development Officer at The MAVEN Project in 2021, stepping into a part time role with AMCF focusing on their strategic plan, institutional fundraising, and external partnerships. Later in 2022 he focused his time consulting on nonprofit management, fundraising, and executive coaching.
Muhi enjoys traveling, photography, riding his motorcycle, and hiking.