Launch Your Successful #GivingTuesday Campaign with a Surefire Plan

This year, more than any other, a successful #GivingTuesday campaign is crucial to your organization. Are you ready?
#GivingTuesday ushers in the charitable spirit of the holiday season and is the biggest giving day of the year. Done right and with thoughtful preparation, it is a fundraising game-changer.
In this ebook, you'll learn how to quickly develop a successful #GivingTuesday campaign that:
Mobilizes your community and creates brand ambassadors.
Prepares you for a wildly successful #GivingTuesday.
Sets you up to kick off your year-end appeal.
Supports your ongoing fundraising strategy.
One important thing to remember as you read through this guide: #GivingTuesday may only last for 24 hours, but it's more than just one day. It's a multi-week campaign that leads up to the big day. Don't wait any longer to start planning.
Get your ebook for a successful #GivingTuesday campaign.
Frequently Asked Questions about #GivingTuesday
What is #GivingTuesday?
#GivingTuesday originated as a simple idea: Create a day that encourages people to do good. It quickly became a movement known around the world. Each year, hundreds of millions of people come together to give, collaborate and celebrate generosity.

When is #GivingTuesday?

#GivingTuesday is on December 1, 2020. Since its inception in 2012, it's always held on the first Tuesday after Thanksgiving.

How can I raise more money this #GivingTuesday?
Turn your donation page into a converting machine. It's important that it looks great, reads clearly and engages your visitors within seconds. No pressure, right? Actually, it's not difficult if you know how to build it correctly—trust us on this.
Get the ebook for a wealth of secrets to a successful #GivingTuesday campaign.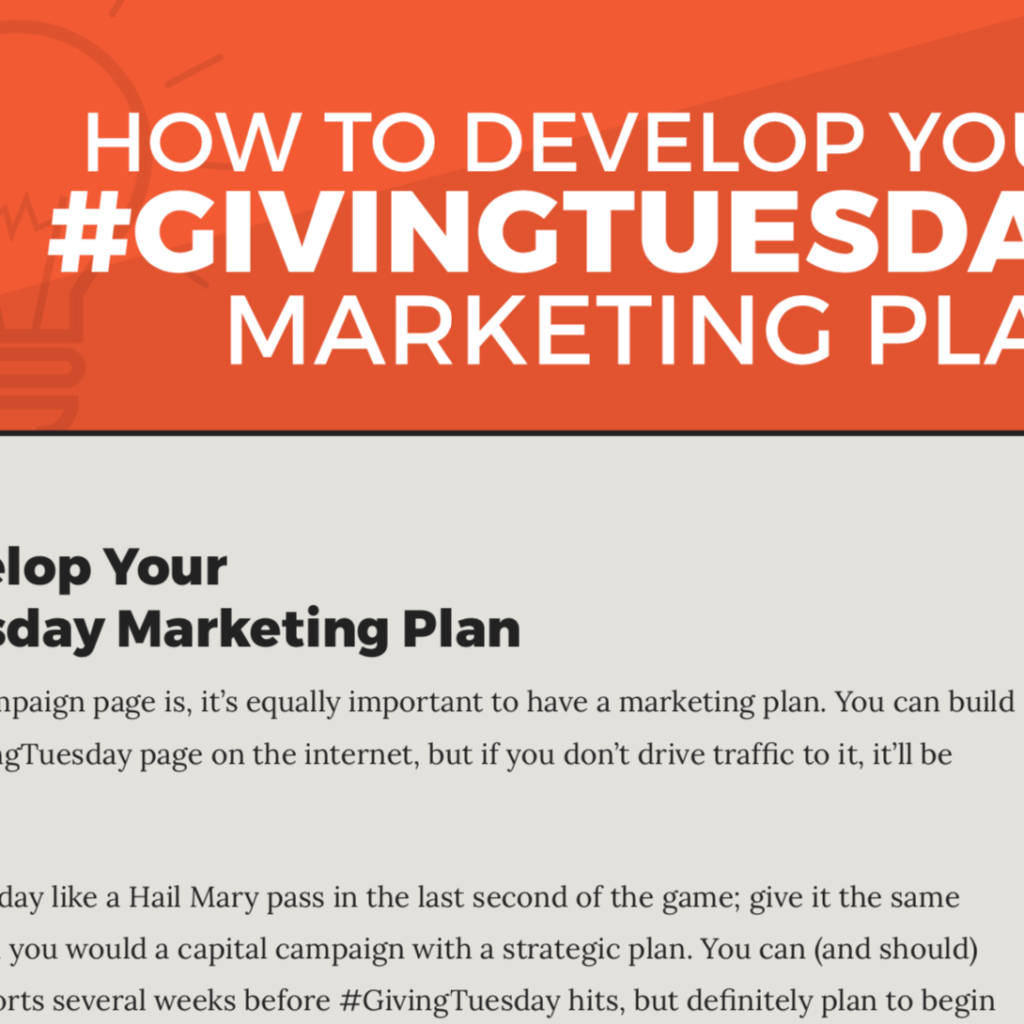 Here's a peek into what's inside.
"…brilliant donation page on the internet, but if you don't drive traffic to it, it'll be brilliant alone. Here's your challenge: Turn your prospects into donors and your donors into brand ambassadors.
First, you've got to drive your message home. Did you know people need a minimum of 5–7 communications before they respond? You might feel like a broken record before donors even begin to really pay attention, so don't worry about over-communicating about your campaign.
Next—and this is important—once you have supporters, you want to turn them into ambassadors for your organization so they share with their network and encourage others to give too. Crowdfunding is about getting to your contacts' contacts. Consistent communication via email, social media…"
Download our ebook to get practical tips for communicating with your prospects to turn them into supporters, and ultimately, brand ambassadors.
What our clients are saying.
Big Brothers Big Sisters Lincoln is extremely grateful to use the space at Firespring. The staff and facility were all amazing and it allowed our matches to have an exceptional time. Thank you all for what you did. We look forward to sharing our experience with our network and coming back soon!