They say a picture is worth a thousand words. When it comes to social media, you usually find that picture posted on Instagram with a filter and motivational quote. Although Instagram is still pretty new to the social networking world, it has already experienced exponential growth. With over 400 million users, Instagram is the largest mobile social network in the U.S. (Nonprofit Tech for Good). The platform encourages visual storytelling and brand marketing through audience engagement, creative intimacy and emotional appeal. Users share personal photos and videos on their account, follow others and discover new trends by using #hashtags.
So, how can Instagram benefit your charitable cause? Well, Instagram is no longer just a millennial-centered app. It can actually reach out to audiences by promoting global engagement and encouraging cause awareness. For some ideas on how Instagram can further your nonprofit organization's mission, check out these 6 useful tips.
1. Tell your story.
Instagram focuses on visual marketing, which makes it a useful outlet for your nonprofit group to tell its story. Why is your mission important? How are you impacting the world? Why should people care about your cause and donate to your nonprofit? These are questions Instagram helps answer. With a majority of its users aged 18–29 (Nonprofit Tech for Good), the social networking app has a highly engaged community for cause awareness and responds to images and videos that foster goodwill. This means your nonprofit can tell its story in a simple, impactful manner that followers easily receive.
With Instagram, every post should tell about your nonprofit organization's impact. Use captions to expand on any photos or videos in order to give readers the whole story and show how your efforts benefit the community. Post #ThrowbackThursday about your history, share pictures of involved volunteers and give testimonies of those your nonprofit helps. For example, take a look at how Feeding America uses Instagram to tell its own story.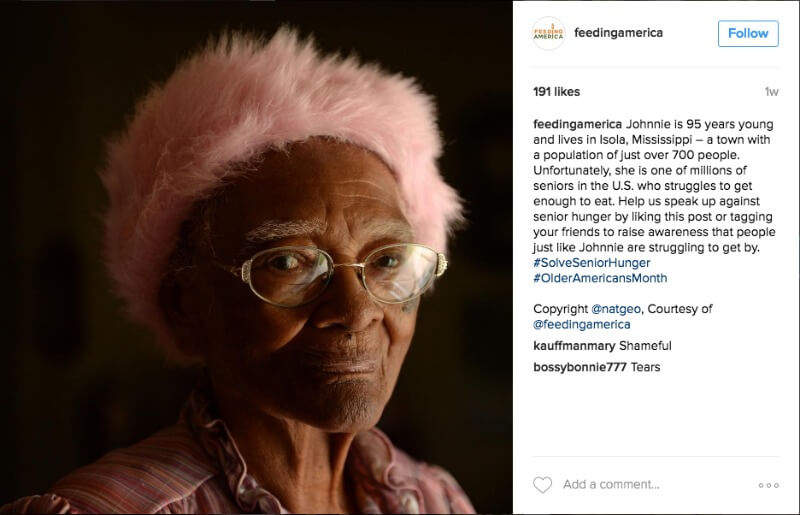 2. Use hashtags relevant to your cause.
One useful aspect of Instagram for philanthropies is the #hashtag. The app uses hashtags to categorize topics and allows up to 30 different tags on each post. While we don't recommend you use this many tags, consistently using hashtags has a positive correlation to the number of likes and comments on a post and the number of followers your organization has. Users can monitor popular hashtags and find your posts via those links. Vice versa, your nonprofit can also observe what hashtags followers often use and employ the most popular ones in its own posts.
Nonprofits can also utilize hashtags to crowdsource images, raise cause awareness and increase donations. Hosting an event? Have followers use a hashtag with their pictures. You can later crowdsource those pictures using the hashtag to create a slideshow, respond to posts or print the pictures out to showcase. If you want a specific mission to take flight, attach a hashtag to it and followers can see similar posts within the cause and join in. Finally, increase your fundraising by using a hashtag to encourage giving. Check out how DoSomething.org used Instagram hashtags to promote their gun-free college campus campaign.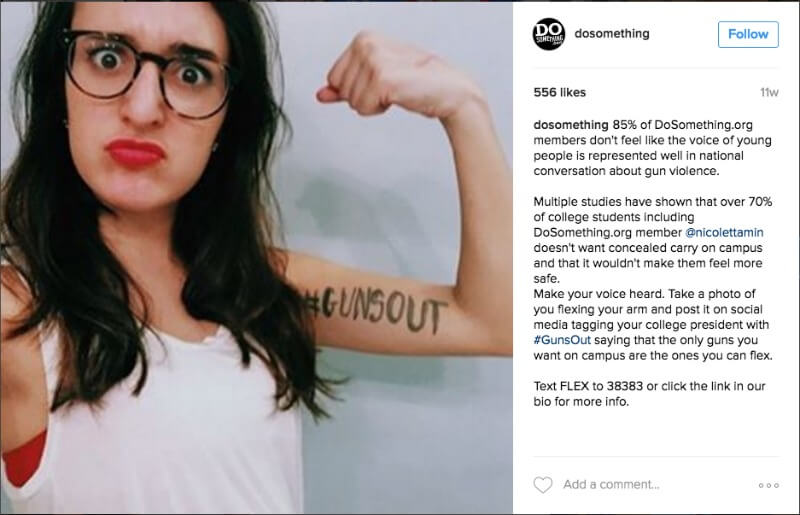 3. Promote fundraising campaigns.
The personal imagery of Instagram lends itself well to promoting fundraising campaigns for your nonprofit organization. Along with using hashtags to foster donations, you can also offer text-to-give campaigns and long-term fundraising. For example, you could ask followers to give $5 over a period of 5 days to help save 5 children in need with a compelling photo of kids your organization serves.
The Humane Society of the United States held a Text Love campaign asking supporters to donate $10 next to a photo of a rescue dog. You can also promote fundraising events that your nonprofit hosts and encourage donors to come. Make sure to include a call to action asking followers to take part and connect back to your organization's website. While Instagram does not currently have the capability to link in captions, you can include a link to your website in your personal profile. Use photo captions to prompt followers to click back and connect with your nonprofit's website.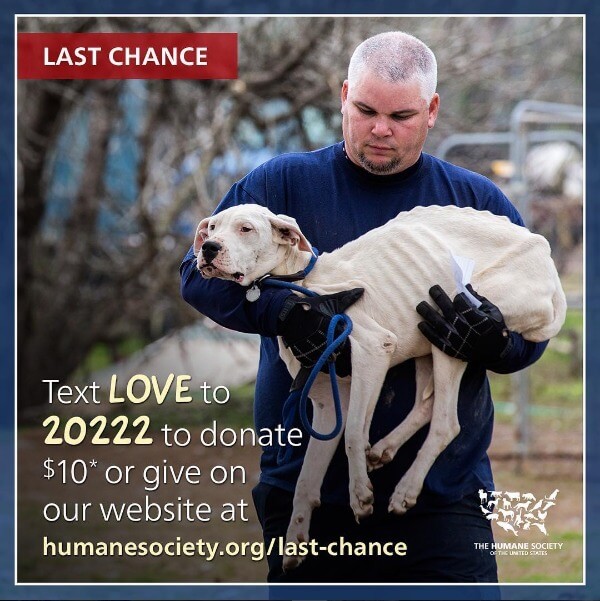 4. Report live events your nonprofit hosts.
Similar to Snapchat, your nonprofit can utilize Instagram to showcase live fundraising events by presenting moments in real-time through photos and videos. If applicable, your philanthropic organization can even tag volunteers, donors or staff members in these posts so followers get a glimpse into what's going on and who is involved. This provides a sneak peek into behind-the-scenes action at your charitable events and shows the immediate impact on the people and community you serve. These types of posts give authenticity and transparency to your organization. Event posts will make your followers feel like they can trust your nonprofit, belong to the effort and will more likely get involved.
5. Thank your constituents.
Try using Instagram to personalize thank-yous to your charitable group's donors and volunteers. By sharing thank-yous with your followers, you:
Demonstrate gratitude and character.
Encourage constituents to continue to be involved in your organization.
Market your brand.
Posts such as these can feature your charity's donors (with permission), highlight organizational volunteers and promote #ThankfulThursday campaigns. Charity Water provides a wonderful example of constituent gratitude in their posts.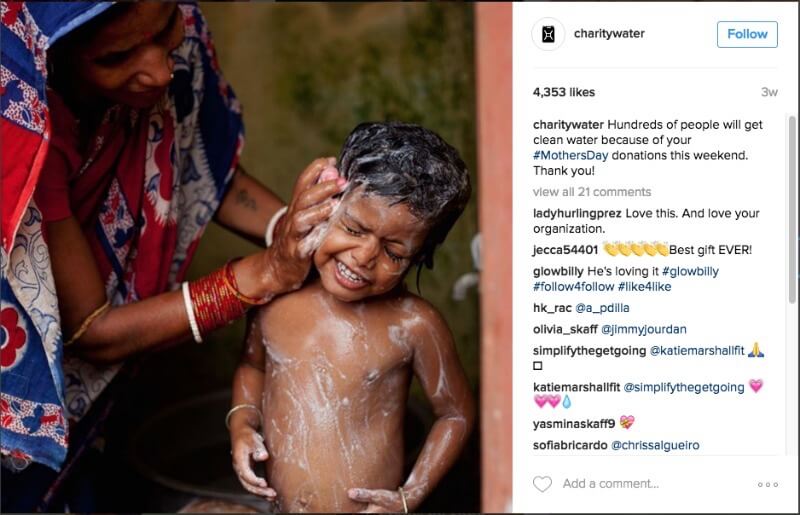 6. Grow your nonprofit following.
Finally, if your nonprofit group seeks to increase its follower and constituent base, then you need to use Instagram. In fact, because of its visual storytelling appeal, you may receive more Instagram likes than Facebook likes and Twitter retweets combined. To continue to grow your Instagram following, and in effect, your charitable organization following, here are a few extra tips to use with the app:
Grow your follower base by regularly liking other people's posts as well.
Share one image or video every day to show activity, but have a balance of fun pictures and business posts.
Engage with followers by responding to comments and messages.
Connect your Instagram with your organization's other social media and website.
Follow other nonprofit organizations to see what Instagram practices work well for them.
If your nonprofit organization decides to join Instagram, commit to staying engaged. By utilizing these tips and interacting with other users, you can promote your cause and grow a following. So if a picture really is worth a thousand words, then Instagram is the place to go to tell your story.
Need assistance taking your social media presence to the next level? Firespring can help. We offer hands-on support whether you're just getting started with social media or want to optimize your existing pages. Learn more by calling 877.447.8941 or email hello@firespring.com.