How Nathan's award-winning AMA work enriches both Firespring and the Lincoln marketing community.
You could throw Nathan Schreiter in the deep end of pretty much any project, but you don't have to. He already dove in.
As Firespring's creative marketing operations manager, Nathan gets in the weeds of every project—organizing timelines, making sure the creative marketing team stays on track and setting them up to succeed. His get-it-done attitude combined with his infectious energy make him a pro at bringing it every day, having people's backs and giving a shit—basically living all our values like a boss.
His passion and commitment for the Firespring marketing team has led him to pursue volunteer opportunities in the Lincoln marketing community. Through a friend, Nathan found his way to the Lincoln chapter of the American Marketing Association (AMA) and he has served as a board member of the chapter for the past two years.
"I wanted to make connections in the marketing world and create opportunities for myself and Firespring," Nathan said. "AMA is a really exciting way to meet other marketing professionals and make an impact in this industry."
On the AMA board, Nathan serves as the EVP of programming. He researches local and national speakers who can come give talks about marketing trends and insights to the Lincoln AMA chapter. Nathan tries to choose a variety of speakers who represent a wide range of marketing topics to keep the programming engaging and educational.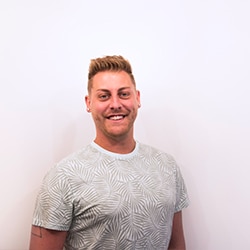 "I manage a team of other volunteers who help me book the speakers and put the events together," Nathan said. "It's fun to organize events people can look forward to, and now I have connections with all these fascinating marketing professionals from around the country—all because I took a volunteer opportunity."
Through the pandemic, Nathan and his AMA team have continued to present a virtual speaker series. He noted how important it is to keep learning and discovering new perspectives this year, and he and his team worked hard to keep the Lincoln marketing community engaged.
His work paid off recently when he was given the Dorothy B. Clarke award by the Lincoln chapter of AMA. This award goes to a member or volunteer who goes above and beyond their assigned responsibility to help AMA Lincoln succeed.
"My volunteer work is so rewarding, but it's amazing to be recognized like this," Nathan said. "I get to work alongside Lincoln's best marketers and I've learned so much. AMA is really a second home, and I'd encourage anyone to volunteer."
At Firespring, our people give 3% of their time to any volunteer cause they choose. And it's so uplifting to see how Nathan spends his volunteer time investing in our local marketing industry.
Learn more about how Firespring gives back through the Power of Three program, and check out Lincoln AMA's upcoming events—planned by our own Nathan Schreiter.