There's bonding power in good food, healthy competition and not-so-secret recipes.
Once a year, right in the midst of spooky season, Firespring is overrun by an army of toasty, bubbling slow cookers. Each one contains a unique soup (chili is not soup!!) made lovingly by our team members. Everyone samples as many as they want—usually all 25+ soups—and casts a ballot for their favorite. The day culminates in the majestic moment we crown one soup to rule them all with the coveted Golden Crock-Pot.
We call this wonderful day of soup puns and food comas Souptacular. Now what does Souptacular have to do with building a strong company culture? To Firespring, a whole darn lot.
Culture Club works year-round to create events that promote community, enthusiasm and fun. Souptacular is all that and a bag of oyster crackers. Something about delicious food just brings people together. And friendly competition lets individual personalities shine, gets people pumped up and connects them with coworkers they might not otherwise know.
This annual soup cook-off is just one of many activities Culture Club orchestrates through the year to build a positive culture. Two of our other favorite annual events are Gutterfest and Firespring Thanksgiving, but we also have plenty of tailgates, volunteer events and celebrations to keep the fun going all year. A constructive company culture is not stagnant or permanent—it must adapt, revitalize and grow with its people. That's why we think consistent team bonding opportunities are so valuable.
If you want to start your own Souptacular or if you just really love a cozy soup, here are three winning recipes from Souptacular plus tips right from our Crock-Pot champions.
Golden Crock-Pot: Wendy Schuman's Chicken Cordon Bleu Soup
Wendy takes Souptacular very seriously and typically experiments with a few recipes before settling on her favorite. Her taste-test guinea pigs–her family–critique her soup before she makes the official Souptacular batch.
Her secret to a winning soup?
"Everyone tries the soups with little tasting cups, so the richer and creamier my soup is, the better," Wendy said. "No one is eating a whole bowl of soup in this competition, so I just try to make the richest soup."
Courtesy of The Girl Who Ate Everything
Ingredients
   

1/4 cup butter

   

1 white onion, diced

   

5 cloves garlic, minced

   

1/4 cup flour

   

3 cups chicken broth

   

2 cups half-and-half

   

1 (8 ounce) package cream cheese

   

2 cups shredded Swiss cheese

   

2 cups rotisserie chicken

   

1 cup diced ham

   

1/2 pound crumbled bacon
Instructions
In a large pot, melt the better on low heat and add the diced onion. Cook onion in butter until onion is soft, about 2-3 minutes. Add garlic and cook for 30 seconds. Add the flour and cook for one minute.

Slowly whisk in the chicken broth and half-and-half. Add the cream cheese and stir until combined. Stir in Swiss cheese until melted. Stir in the chicken, ham and bacon until heated through. Serve.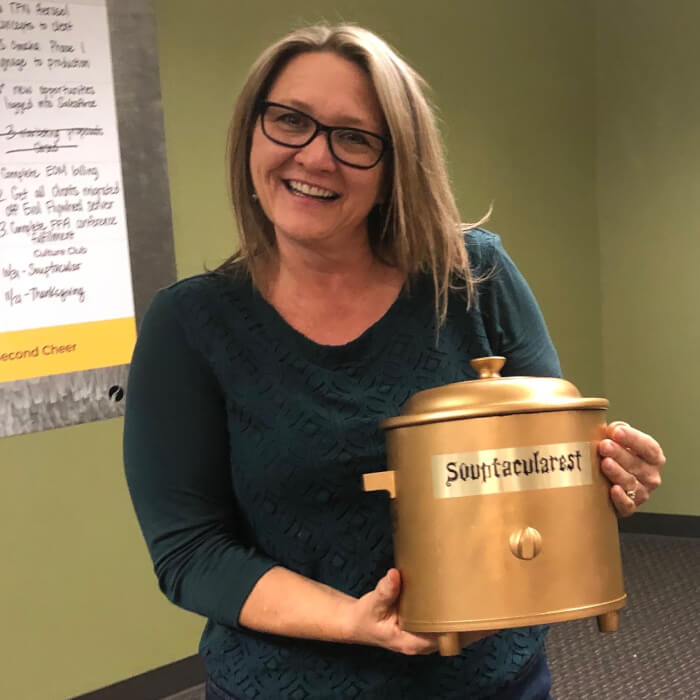 Silver Crock-Pot: Sarah Robbins' Buffalo Chicken Soup
Souptacular is Sarah's absolute favorite Firespring event because it combines the creativity of potlucks with the fun of office competitions. She wanted to bring a soup that was different, unique and perfect for fall. So when she came across this recipe several months ago, she bookmarked it immediately.
 "I added some extra Frank's RedHot," Sarah said. "I also put blue cheese into the soup instead of just using it as a topping."
Courtesy of Salt & Lavender
Ingredients
1 tablespoon olive oil

1 tablespoon butter

1/2 onion, chopped

2 sticks celery, chopped

2 carrots, peeled and diced

1 tablespoon flour

1 (1 ounce) packet ranch seasoning

4 cups chicken broth

1/4 cup Frank's RedHot Original sauce

4 chicken breasts

1 (8 ounce) package cream cheese

Salt and pepper to taste

Blue cheese

Scallions, chopped
Instructions
Take the cream cheese out of the fridge to soften prior to starting the recipe.

Add the oil and butter to a pot over medium-high heat. Sauté the onion, celery and carrot for about seven minutes.

Stir in the flour and ranch seasoning, followed by the chicken broth and Frank's RedHot.

Add the whole chicken breasts to the pot. Increase the heat to high and bring the soup to a boil. Once it's boiling, reduce the heat. Let it simmer for 12 minutes.

Take the chicken out of the pan and shred it. Stir the cream cheese into the soup. Once the cream cheese is fully incorporated, add the chicken into the soup.

Let it cook for a few more minutes to allow the chicken to completely cook through. Season with salt & pepper as needed. Serve and garnish as desired. If you love blue cheese, you can stir some right into the soup.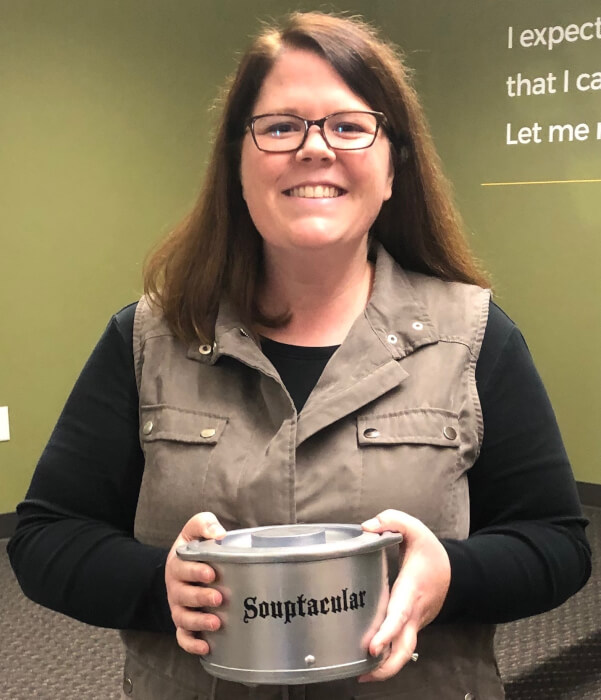 Bronze Crock-Pot: Kasey Sendgraff's Taco Soup
According to Kasey, this soup is "a combination of cheesy goodness, comfort food and a hint of party." She makes it throughout fall and football season and sometimes adds extra cheese to make the soup a dip you can eat with chips.
Ingredients
2 pounds ground beef

1 onion, chopped

1 can black beans

1 can RoTel diced tomatoes and green chilies

1 can corn

16 ounces Velveeta

1 packet taco seasoning

Chili powder

8 ounces sour cream
Instructions
In a pot, cook ground beef and onion over medium heat until the beef is browned. Drain excess liquid.

Add beans, RoTel, corn, Velveeta, taco seasoning and chili powder. Cook and stir until Velveeta is melted. Stir in sour cream, heat through without boiling. Serve.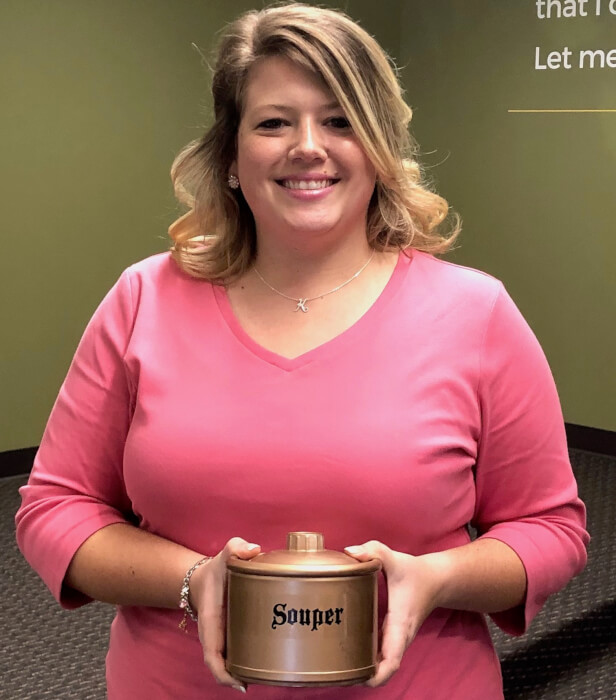 Want to see how company culture can be as warm and comforting as a cozy bowl of soup? Sign up for a Firespring tour! We'd love to show you around.
​