Drip. Drip. Drip . . . drip.
Annoyed yet? There's nothing like a drippy faucet to keep you up at night; the constant sound of one single droplet of water repeatedly hitting your sink basin can make you want to punch the feathers out of your pillow.
Now that we've established that, I want you to take just one thing from that scenario and apply it to what's called "drip marketing," specifically email drip campaigns—just one thing. Here it is: It gets your attention.
What is an email drip campaign?
Let me be clear—email drip campaigns are not annoying. They're not the result of anything broken; in fact, quite the opposite. They're planned and strategized with a purpose. But they're excellent at getting someone's attention and putting your brand right where you want it to be: on your audience's mind. In a good way.
Drip marketing, also known as lead nurturing, is an effective way for nonprofits to use emails to build relationships with supporters and prospects over a period of time. A drip email campaign starts with a donor's first interaction with your organization—and it's automated, so once it's set up, it's very easy to pull off.
How does an email drip campaign work?
Let's say I make a donation to your nonprofit—that's day one, and I receive email number one. It's a thank-you message that you've already got set up, maybe with an invitation to follow your organization on social. It's triggered by my donation, and it automatically sends when I make my gift. At that moment, you could be sipping a glass of wine or enjoying your morning latte. Ah, the beauty of automation.
Then a week or two later, I'm going to get email number two. Maybe this is a short message about your nonprofit's mission—something that educates me more about your cause. Maybe you tell me a little about what my first gift will help accomplish and introduce me to the idea of recurring gifts.
A short time after that, I'll receive email number three with a little more education about your cause, maybe a story about someone you've helped, along with a list of upcoming events or volunteer opportunities you'd like me to know about.
Do you see what's happening? You're beginning to build a relationship with me through a series of emails that tells me more about your cause and provides me with opportunities to engage. It's not overwhelming or annoying because you're not bombarding me every day—but you're staying connected. And because I liked your mission enough to give in the first place, I'm intrigued.
Email automation means less work for you.
Of course, every subscriber will be on a unique schedule for drip emails, depending on how and when they interact with your organization. But because drip emails are automated and are sent based on a user's action (or "trigger," like making a donation, signing up to volunteer or registering for an event), they're very easy to implement. They require some work upfront, but then it's smooth sailing once they're set up.
Drip campaigns also allow you to customize your message based on a particular trigger. That's the difference between a drip email and, say, an email newsletter. An e-newsletter has the same message to everyone, regardless of whether or not they became a constituent yesterday or three years ago. A drip campaign starts and ends on a timeline based on that person's interaction with your organization. And besides requiring less work from you, do you know what else is beautiful about automated emails? They get 119% more click-throughs than blast emails (Epsilon).
Discover three types of email drip campaigns.
Let's look at a few examples of drip campaigns you might want to consider for your organization. These are typically pretty easy to create and implement, but if you'd rather leave the creative work of copy and design to someone else, we have writers and designers that love to help nonprofits like yours.
Top of mind email drip campaigns.
Audience: Prospects
You're at the beginning stage of the relationship here—still trying to capture someone's attention and get them interested. This is the awareness stage when you want to make yourself memorable while providing education about your organization. What do you do on a first date? Put your best foot forward. Engaging messages and creative design are going to help your organization stick. Your goal is to entice them to want to learn more about you and how they can support your mission.
Nurture email drip campaigns.
Audience: Current supporters
You've taken things a little further at this stage—you've converted this audience, but now you want to keep them. Nobody wants to keep swiping on Nonprofit Tinder (there isn't one, but you get my point). With a nurture drip campaign, it's just what the word says: You nurture the relationship you've started. This includes updating your donors or volunteers on what's happening. Delivering relevant, useful content. Thanking them for their support. Presenting additional opportunities to get involved. Inviting them to become a recurring donor. And with every message you send, tugging on their heartstrings to get them emotionally invested.
Re-engagement email drip campaigns.
Audience: Inactive/former supporters
Maybe you got dumped—it happens. Maybe in spite of your best efforts, some of your donors just ghosted. Maybe life's hardships got in the way for some, they had to turn their attention to other matters and they drifted away. These are the people you're trying to reach with a re-engagement campaign. With this campaign, you want to provide a very soft sell—it's more of a "Hey, remember us and the beautiful relationship we shared? We're still here, doing things and helping people!" Your goal is simple: Let's get these people back on board. But you want to woo them, not blast them.
Example of an automated email drip campaign workflow.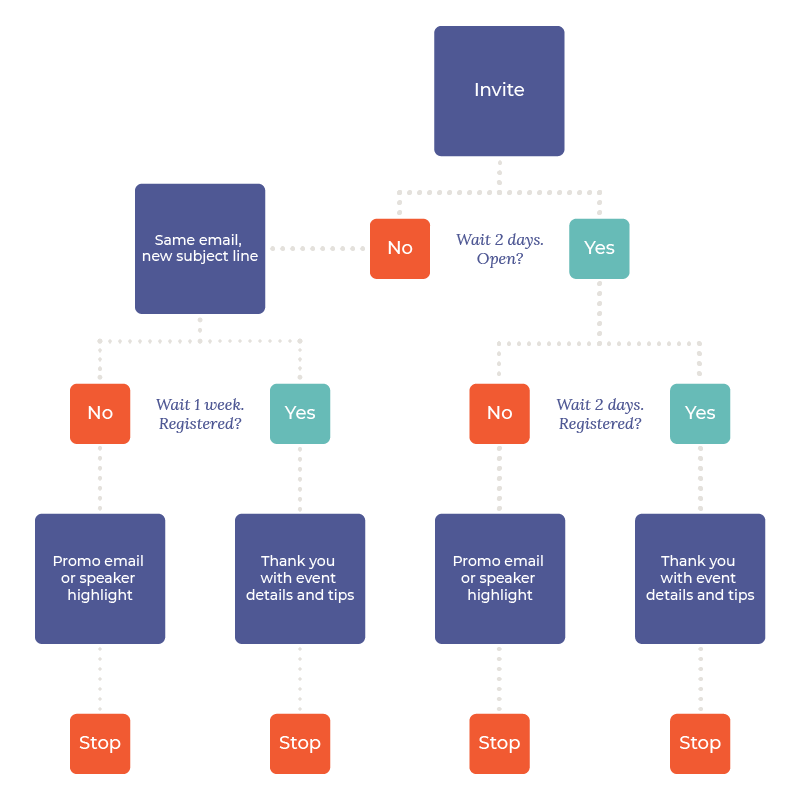 How can I get started with an email drip campaign?
Unlike a leaky faucet, the "drip" part of drip campaigns is very important; it's intended to build and foster a relationship that will last for years to come. You can use drip campaigns to educate prospects, re-engage constituents, promote fundraisers and events, or to simply keep your nonprofit on your supporters' minds. And with Firespring Email Marketing, you can "set it and forget it" because our automation capabilities allow you to create engaging emails that send at just the right moment with the right message—all without lifting a hand.
Hard work will get you far; smart work, even further. See how email marketing automation helps you work smarter.