While the Internet has become an important part of most people's everyday life, it can still seem like we'll never fully understand this endless world of information, misinformation and cat videos. Fortunately, there are some of us whose brains are better equipped to understand the intricacies of online architecture, and they're called engineers.
Engineering—as it refers to computers and web development—refers to the branch of the field which integrates computer science and web design. These are the folks who build applications for the web like content management systems (CMS), social networks, blogs and more to create much of the framework through which we browse the Internet today.
We wanted to get a better understanding of content management systems, engineering careers and the fundraising tools, event registration capabilities, blogging tools, email marketing functionality and integrations available via Springboard, Firespring's proprietary CMS software. So, we sat down with CJ O'Hara, our software engineering manager, and Andrew Newton, our director of product. They spoke about what it takes to work in software engineering at Firespring and on the best CMS for nonprofits ever created in our building (okay and the only one).
Engineering a Culture of Collaboration
Talking with CJ and Andrew revealed there's much more to the engineering jobs at Firespring than computers—although those definitely play a major role. CJ, for example, works in a managerial sense, overseeing his team by providing them with the tools, information and backup they need to work effectively. Andrew, who used to work on the engineering team before rising to director of product, uses his skills to constantly search for new ideas Firespring's engineers can implement to improve the best CMS for nonprofits.
This means a lot of their work happens through collaboration. "We have a breadth of skill sets on our team," said CJ. "There are people who have been here for more than a decade and some who are straight out of college. We all learn new things all the time, and there's a lot of cross-team work where our senior developers provide knowledge that's not exactly Google-able." Without the knowledge of many of those senior developers, finding the tools to accomplish the wide array of functionality our clients need would be simply impossible.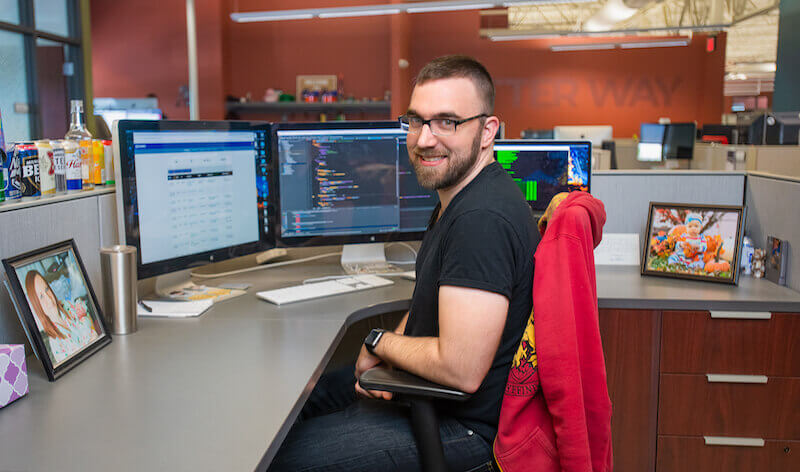 When asked to describe the main purpose of his team, CJ's answer was simple: "In general, engineering is about solving problems. We spend most of the day either in development or planning, working together and using the resources we have to constantly try to do a better job for our clients."
"Beyond that, they try to get to the true root of an issue," Andrew continued. "So if a customer calls saying they need X feature, we're not just checking boxes—the team is really good at finding out why they need that feature to ensure it's truly the best tool to fit their needs."
They explained the day-to-day of a Firespring engineer as just that—a never-ending barrage of problem-solving missions. These are handed down in one of two ways: from the client or from our internal leadership discussions. For client issues, there's a team which sets assignments based on the size and scope of each issue and prioritizes them based on urgency. Firespring's leadership also has regular discussions to decide which areas of our software should be tweaked or improved to provide the best CMS for nonprofits.
"Then engineering takes that 'wish list' from leadership and figures out how to implement them," Andrew explained. "It's a three-tiered thing really, and it kinda looks like planning a trip: Leadership sets the destination, I'm the mapmaker who shows them which areas need work and the engineers are the driving force which gets us there."
Building and Maintaining the Springboard
After discussing the team itself, we got a little deeper into the brass tacks of creating, maintaining and updating a content management system website. Our first question: what is a CMS, exactly?
Andrew explained using our proprietary CMS for nonprofits as an example. "Springboard is a full website management suite," Andrew said. "You can add just about any kind of content you want to your site and manage that content without needing a developer's help. Then, you can introduce features to help further your message. An event calendar or ticketing tool, tools for fundraising campaigns, e-commerce functionality, internal and external member management—you can do just about any kind of content management you need via Springboard."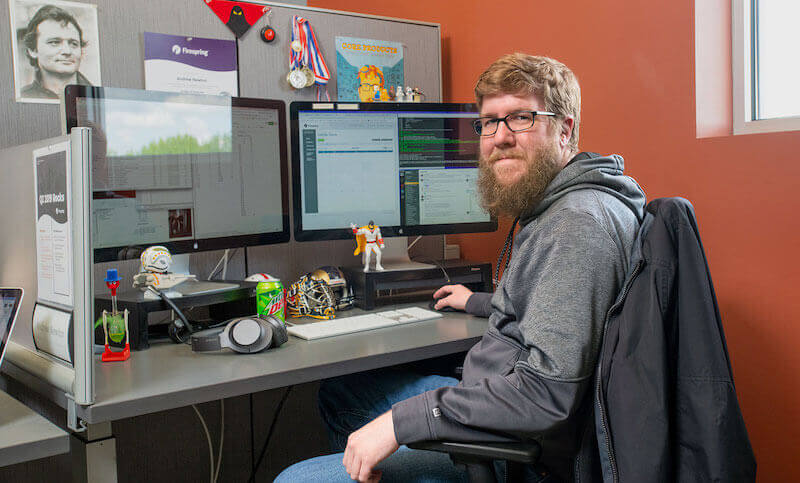 "Plus," continued CJ, "we made the change a few years ago to manage and support fully responsive websites to make them more user friendly." Responsive design refers to the way sites are optimized for viewing on any device, so end users can access them from cell phones, desktop computers, tablets and more. "We've also taken the initiative to update the sites we manage with SSL certificates to help uphold site security, especially where features like secure payments are concerned."
Springboard started way back before Firespring with AlphaGraphics: "When the internet was starting to become a thing," as Andrew put it. Our founder, Jay Wilkinson, realized to stay competitive among print shops, he'd have to get a website—so he did. Then, he saw the need other AlphaGraphics franchises were facing, so he figured out a way to provide sites for them. Then, for other printers. This would become the genesis for everything Springboard has done since—recognizing a need in a market and building a useful tool which fulfills those needs.
Since then, Firespring has expanded to create a CMS which supports mostly print clients and nonprofits, although it can be implemented for other industries as well. So what does the future hold? According to these two guys, quite a bit.
The engineering teams gather once per year for their annual hack-a-thon which provides much of the insight they use to improve our systems. Don't worry, we're not breaking into government servers. "During hack-a-thon, we divide into teams and experiment with new tools we wouldn't normally encounter. Sometimes we even make new products out of the exercise, but the main goal is to learn something new and find new ways to use that knowledge" said CJ.
Andrew went on to say, "we've got future improvements in the works, but we're not really at liberty to discuss them yet. All I can say as of right now is that we're continuing to work on making Springboard more intuitive and improving the user experience for both our clients and end users."
Be on the lookout for updates to the Firespring Springboard both in the near and far future because, as you now know, the computer engineering professionals here aren't slowing down any time soon. To learn more about the Springboard, and how you can use it to build your organization's online presence, send an email or jump on a call with our Lincoln or Omaha experts. Our engineers are ready to go on a problem solving mission for you.