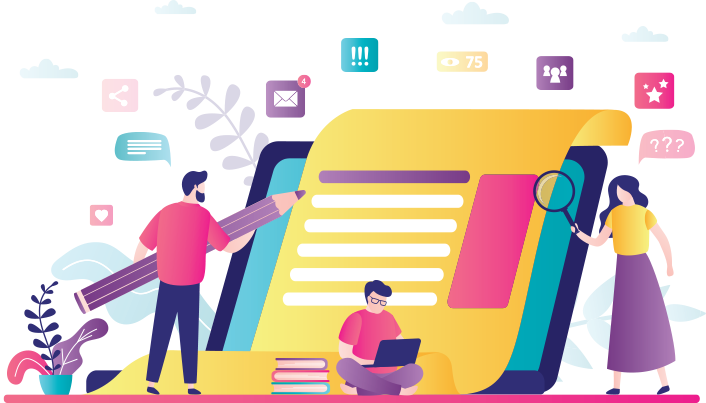 Pithy quips and clever wordplay is fun, but clear, compelling messaging is what gets people to reach for their wallets. Get the right message to the right people with headlines, copy and content that says what you want to say—effectively and efficiently. If you're at a loss for words, find 'em with us and our team of professional writers.
We write to tell your story.
From brochure copy and website content to blog articles and social media posts, we'll infuse your brand identity and marketing campaigns with a consistent voice that represents you and the message you want to deliver.
Our team leverages insights gained from keyword research and layers that with their understanding of your consumer's journey to develop content that's on point and relevant at every stage.
Content development services we offer:
Brochure copy
Annual report copy
SEO-optimized website content
Blog articles
Social media posts
White papers
Direct mail marketing copy
Email marketing content
Event promotional materials
Trade show flyers
Video and radio scripts
Google Ads copy
Digital ad copy
Start your content development or copywriting project today.
If you hate to write, don't stress; we have a team of writers to take it on. They'll use the right words to get your message to the right people with compelling copy and relevant content in a voice that's uniquely yours.
What our clients are saying.
Etiam id est eu ligula tincidunt interdum. Phasellus enim est, hendrerit quis ornare in, ullamcorper a purus. Donec bibendum ex gravida, ornare magna at, maximus tellus. Nulla aliquet sem eget leo placerat suscipit ac a massa.
Need a partner to help execute your marketing? Our commercial printing and strategic marketing teams can help.
When you work with us, you're getting far more than just a marketing agency. We offer commercial printing and teams of experienced content writers, designers, photographers, videographers and web development professionals to help you fulfill your variable data direct mail projects, implement your marketing campaigns and build your website to establish a comprehensive brand experience for your target audience.