This is the first step to getting you noticed.
Facing an identity crisis? If you're still wondering who you are—as a company or organization—let's work together to create a brand that's uniquely you and strategically developed. We start by defining your brand archetype and Trait Agreements and use that information to craft your brand elements from your voice and tone to your logo, fonts and colors to your brand and editorial guidelines. We'll get you well positioned to engage your audience and leave an impression that sticks.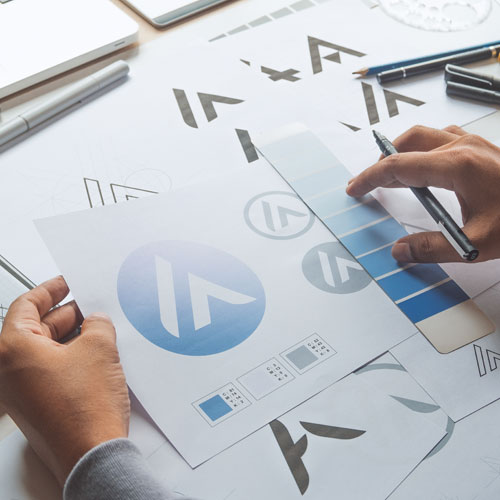 Define a consistent visual identity across all your communication channels with the right logo and detailed brand guidelines.
Everything you put out in the world, from your business cards to your website to your annual report should look like it all came from the same brand. Let's get everything on the same page so when you speak on any marketing channel or platform, people know it's you.
As part of your brand and identity development, you'll get:
Current brand analysis
Archetyping
Trait Agreement identification
Market research
Logo design
Brand style guide
Brand identity package design and layout
Marketing materials and promotional items
Webpage layout templates
Email marketing layout templates
Social media graphics and post templates
Start your brand and identity development project today.
If your name is on it, it needs to look good. Our marketing strategists put your corporate identity on the path to success by integrating your logo and typography into a consistent representation of your brand.
What our clients are saying.
We hired Firespring to do a re-brand for the Lincoln Arts Council and the feedback from people has been so positive. That brand is built into our website, and everything that we do. Having a website that we can easily update ourselves has saved us so much time that we are then able to devote to doing our work to fulfill our mission. Over the years we have also benefited from the upgrades to the website interface that Firespring has implemented. They are a company that is all about providing the best solutions to nonprofits. They care about our work and make it easier.
Need a partner to help execute your marketing? Our commercial printing and marketing services teams can help.
When you work with us, you're getting far more than just a marketing agency. We offer commercial printing and teams of experienced content writers, designers, photographers, videographers and web development professionals to help you fulfill your variable data direct mail projects, implement your marketing campaigns and build your website to establish a comprehensive brand experience for your target audience.