You know things. So, establish your business or organization as a thought leader in your space with valuable, consistent content that connects with your audience.
After all these years, content is still king, and it's not giving up its crown anytime soon. A well-defined content marketing strategy will help you connect with your prospects, wherever they are on their consumer journey, and generate a consistent and cost-effective flow of new leads.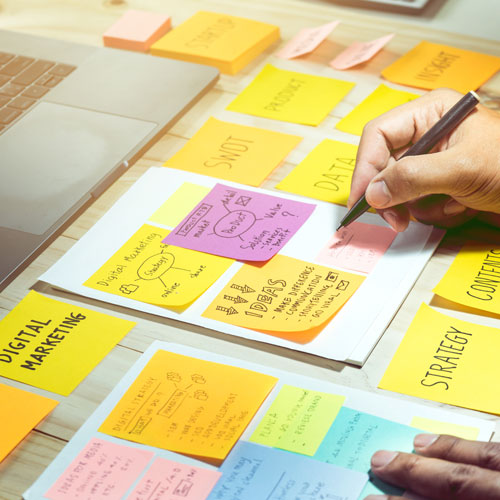 You need a strategy to deliver relevant, consistent and creative content to achieve your marketing goals.
That's where we come in. We'll help you position your brand as an industry thought leader using a variety of content, from SEO-optimized blog posts to social media and email marketing automation, from text to interactive to downloadable content assets. And it'll all be backed up with a thoughtful strategy that elevates your content above your competitors.
As part of your content marketing strategy, you'll get:
Current content analysis.
Market research.
Content marketing campaign goals.
Recommended content distribution channels.
Ideal written, visual, interactive and downloadable content types.
Content release calendar to schedule the most effective cadence.
Keyword research to drive discoverability.
Start your content marketing strategy project today.
Do you want to expand your client base? Acquire new customers? Elevate your brand and increase market awareness? Or maybe launch a new product? We have our hands up for all of that; pick us. We'll deliver a winning content strategy to achieve your goals.
What our clients are saying.
Etiam id est eu ligula tincidunt interdum. Phasellus enim est, hendrerit quis ornare in, ullamcorper a purus. Donec bibendum ex gravida, ornare magna at, maximus tellus. Nulla aliquet sem eget leo placerat suscipit ac a massa.
Need a partner to help execute your marketing? Our commercial printing and marketing services teams can help.
When you work with us, you're getting far more than just a marketing agency. We offer commercial printing and teams of experienced content writers, designers, photographers, videographers and web development professionals to help you fulfill your variable data direct mail projects, implement your marketing campaigns and build your website to establish a comprehensive brand experience for your target audience.