Signs, signs, everywhere a sign–even in the middle of a worldwide pandemic. Regardless of whether your business is operating as usual right now or is in a holding pattern waiting for America to get back to work, your business signage plays a significant role in your marketing. Does your business sign need updated? Why not take this time to evaluate how it's working for you?
Does Your Business Sign Needs Updated? Make an immediate difference with signage.
There may be some smart things you can do right now that'll make an immediate difference:
Vehicle wraps can keep your brand on people's minds, even if your business is closed for now. And, they're particularly effective if you've made delivery an option for your customers. Vehicle wraps are a great way to advertise your business any time, any place.
If you're offering curbside pickup, you can add external signage to promote that and direct traffic.
If you've put new temporary rules in place (for example, a grocery store that's limiting the purchase of certain items), display signs are a perfect way to communicate with customers.
Window decals or vinyl banners can update people on anything else that's changed temporarily with your business, including store hours or new services.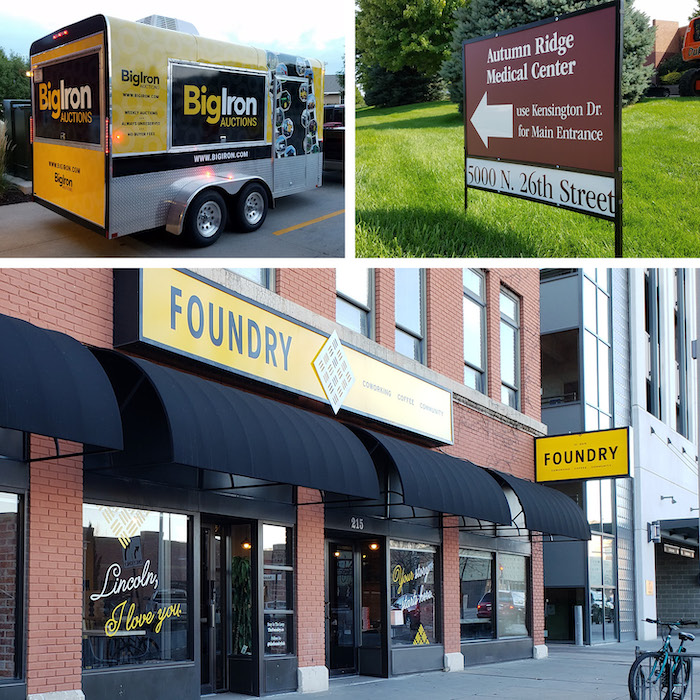 Plan your summer signage now.
If you're more in the mode of planning for the future, now's a perfect time for that as well. We sat down with
signage expert, Amanda Russell, to chat about all things sign-related. She unveiled why the summer months are the best time to invest in new, updated and head-turning signage.
Business Sign Installation is easier than ever.
First, Amanda says that installing new signage is never easier than in the summer. The warm weather is ideal for putting up vinyl lettering and graphics, which can be too brittle to manipulate in the colder months. Not to mention that summer offers a lot more visibility in advertising.
"It's generally the best time to change out signage, because a lot of people are out and about, going places, doing various outdoor activities," Amanda said. "So your visibility is increased just by the number of people who are on the go."
Film laminates and clear coats extend your sign's life.
But you want to be sure you take steps to protect your signage during the hot summer months. As the temperature continues to climb, the vinyl lettering and graphics on outdoor signs are at greater risk of fading and peeling. To guard against that tired or unkempt look, Amanda recommends treating signage with either a film laminate or a clear coat, both of which have UV protection and extend a sign's life by at least a few years.
"Ink is rated for three years before fading," Amanda said. "Laminate or clear coat will ensure your sign—and therefore your business—stands out longer."
Tradeshow season is coming soon.
Summer also is a time to plan ahead with your signage for the fall. Create striking visuals that will be ready to use during trade show season and other autumn events. "A colorful sign can really make your business stand out," Amanda said. "You don't want to miss out on opportunities because you don't have one." So….does your business sign need updated? Contact us today for a free strategy session.
If you're ready to turn your brilliant signage ideas into something real and tangible, holler at our creative services team to get the ball rolling.
Or if you need to bounce around some ideas, schedule a free, virtual 30-minute strategy session to chat about ideas with one of our marketing and print strategists.