(and 5 brands that used it right)
In an increasingly digital world, printed marketing pieces are like a breath of fresh air, blowing right into your audience's mailboxes, as opposed to their typically full (and often SPAM-filled) inboxes.
Fact: 56% of customers find print marketing to be the most trustworthy type of marketing (Direct Mail News).
While they're being bombarded with thousands of digital messages, your printed piece offers a welcome tactile reminder of who you are and what you offer—and the perfect tool to drive them online, where they can interact with your website or storefront.
Fact: 44% of customers visit a brand's website after receiving direct mail marketing (Direct Mail News).
If you think direct mail, or print marketing in general, is old school and only resonates with the 40-and-up crowd, the numbers would say otherwise.
Fact: 92% of 18- to 23-year-olds find it easier to read print over digital content (Forer, 2017).
So, if you've written off print marketing as ineffective or archaic, you might want to reconsider that stance—because the statistics and facts surrounding print speak volumes about how not dead it is.
You do, however, want to be sure you're using print correctly.
First, it's important to weave your print marketing efforts in with your digital efforts—they should support and complement each other. Think of it like marketing in 3D: Print collateral adds a new dimension to your marketing plan, bridges the gap between your offline and online worlds and amplifies your digital voice so it's louder than it would be alone.
Second, you want to put some thought into it. Print is not old school, ineffective or boring at all. But the people behind the print might be. If you think your print marketing is boring, you may be getting it from the wrong place. Boring print marketing will likely produce boring results—as in, low conversion rates and little engagement. Creative print, however, will give you an edge, help you rise above the noise and make your brand sticky.
Here's a look at a few brands that understood the assignment.
ADT Popup Box
ADT wanted to encourage apartment building residents to hire their security and anti-theft systems by showing them how easy it is to break into their homes. So, under front doors, they slid cardboard lined with a set of rubber bands which, when released, would compress and form a box. On one of its sides, a printed message read, "Breaking into your apartment is easier than you think." A scare tactic? Maybe—but a pretty creative one.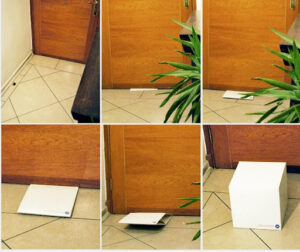 Firespring's Pizza Box
To deliver the hottest promotion for our customers' next print project, we opted to get the word out in a way that was sure to whet our audience's appetite: in a pizza box. This was a fun and creative way to both advertise a new dollars-off promotion and showcase our creative printing capabilities, as well as our marketing acumen. (Hey, we've been in the print business for 30 years now—we better be good enough to make our own list.)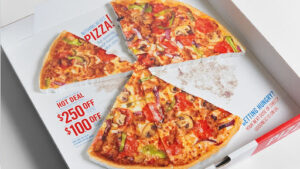 Lexus' All-Terrain Manilla Envelope
To encourage their recipients to actually open the envelope, Lexus sent direct mail with a twist—literally. Once unwound, readers would learn that they had just traced the elevation of a drive between Vancouver and Banff. They were also directed to a landing page where they could enter to win a prize package—a great example of how print marketing can drive (pun intended) your audience right where you want them to be: your website.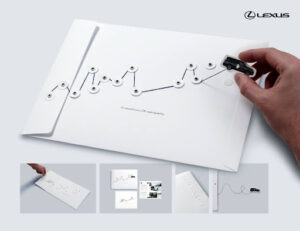 Amazon's 2020 Holiday Wish Book
Even the (arguably) largest e-commerce giant in the world understands the power of print. In 2020, when we were all mostly stuck at home during the pandemic, glued to our computer screens, Amazon mailed out a printed holiday catalog. They branded it a "wish book" (harkening back to the days when holiday catalogs were every kid's delight), and filled it with fun interactive elements, including a wish list template, coloring sheets, mazes and more. What a genius way to stand out from all the millions of digital messages we were all fielding.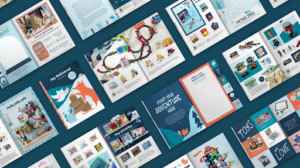 Greenpeace Polar Bear Outlet Decals
This idea is unbearably cute (again, pun intended): Greenpeace mailed polar bear decals for electrical outlets as a reminder that the simple act of unplugging to conserve energy could have a positive global impact. They accomplished several goals with this: They provided a printed item people would actually want to use; they reminded people of Greenpeace's mission; and they put their name on something that would keep their brand visible on a daily basis.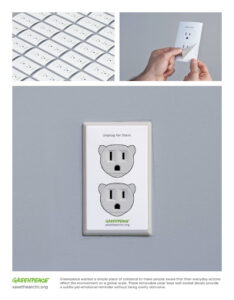 Feeling creative yet? If you need a little more food for thought, we'd love to give you a free copy of our latest inspo book, "Print Is Not Boring." It features several more incredible examples of creative direct mail and print marketing that made an impact on audiences around the world. Grab a coffee and sit down with our inspo book to get inspired and plan your next creative print campaign. We'll be here to help when you're ready.