Happy Earth Day! First celebrated in 1970 by primary schools and colleges across the U.S., Earth Day is now observed in more than 193 countries every April 22—and Mother Nature deserves it. This beautiful blue planet of ours should be celebrated every day, which is why our teams—and our print team specifically—are always looking for newer, better ways to reduce our carbon footprint.
Sustainability in business is becoming more important to everyone, including the individuals who consistently need to order print products for companies and nonprofits. At Firespring, we define sustainability as making an effort to work systematically to reduce waste and use the resources we have in smarter ways.
We sat down with Travis Gueret, our VP of print production, to talk about the three main focuses of our sustainability efforts at Firespring: efficiency, recycling and using eco-friendly materials wherever possible.
Efficiency
Efficiency is about more than getting materials to our clients on time (although it helps with that too). Efficiency means using the best processes and equipment to get jobs done quickly while creating as little waste and using as little energy as possible.
Equipment upgrades are one of the most effective ways we increase our efficiency. "We try to be very efficient in what we do. We're constantly upgrading our equipment to cut down and reduce waste as much as possible," said Travis.
Although one might think the oldest machines are the least efficient, that's not always the case. We look at everything from output potential to average waste creation when deciding what stays, what goes and what gets an upgrade. Fun fact: One of the machines in our print shop that still gets plenty of use is also one of the oldest. It's the Muller, our binding machine. (One more fun fact: Our Muller is the exact binding machine that produced all the original CliffsNotes books back in 1958 when Clifton Hillegass first created them right here in Lincoln, Nebraska, making the machine older than most of the folks who operate it!)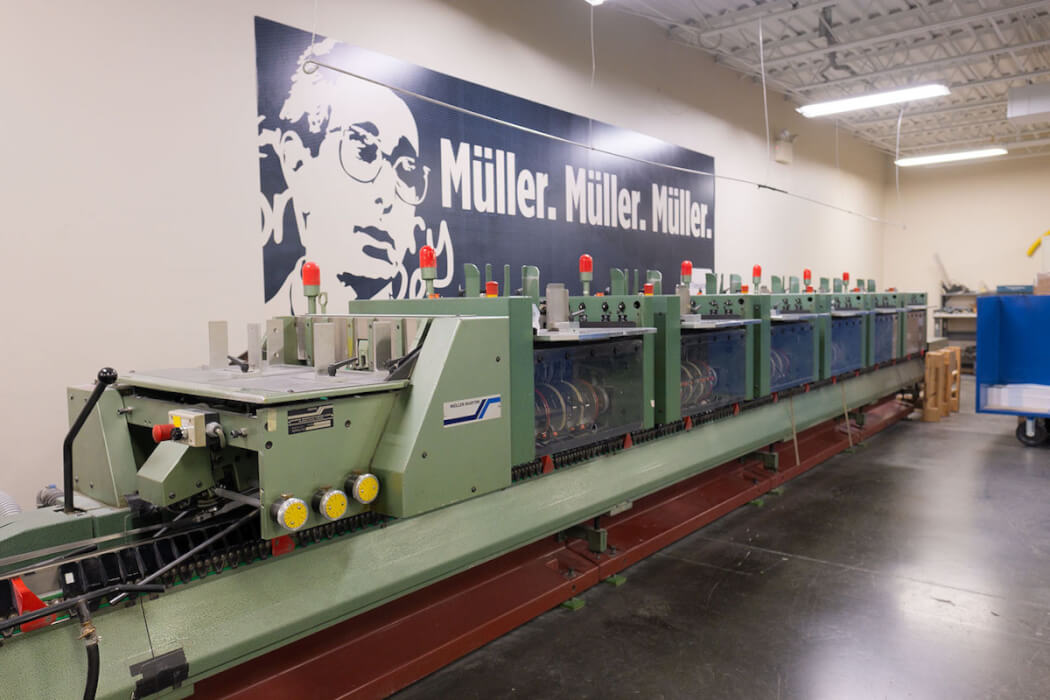 This Muller is one of the oldest machines in our shop.
There are plenty sustainability examples related to the efficiency of our equipment. A great one is the recirculating system used by a few of our printing presses. According to Travis, "they keep the water cool as it flows through the press to reduce evaporation," thereby lowering our water usage.
We also monitor and document all our energy usage in an effort to reduce our consumption and use electricity more efficiently. Jeff Norris, our properties & construction manager, has taken the reins for that job. "In the last four years we have been changing to LED bulbs and fixtures, installing smart thermostats, cleaning A/C condensers and coils and improving air compressor efficiencies," he stated. "This has resulted in a large drop in electricity usage—183,900 kilowatt-hours saved. In carbon emissions. that's the equivalent of nearly 15,000 gallons of gas." (Big thanks go out to our friends at Lincoln Electric System for helping us with our efforts.)
Recycling
Recycling is a two-fold process for the print shop. First, we try to use as much recycled or partially recycled paper as possible. "The majority of our paper has some recycled content to it, usually at about that 10% range," Travis stated. This is fairly standard in the print industry these days as more and more shops are working to lessen their impacts on the planet.
The second half of the equation is recycling the materials we do use. When you're in the printing business, there's a lot of excess paper—and we mean A LOT. Trimming and cutting booklets, pamphlets, brochures and other printed materials means pounds and pounds of recyclable waste every day. Similarly, all the aluminum plates used in our printing presses all get recycled.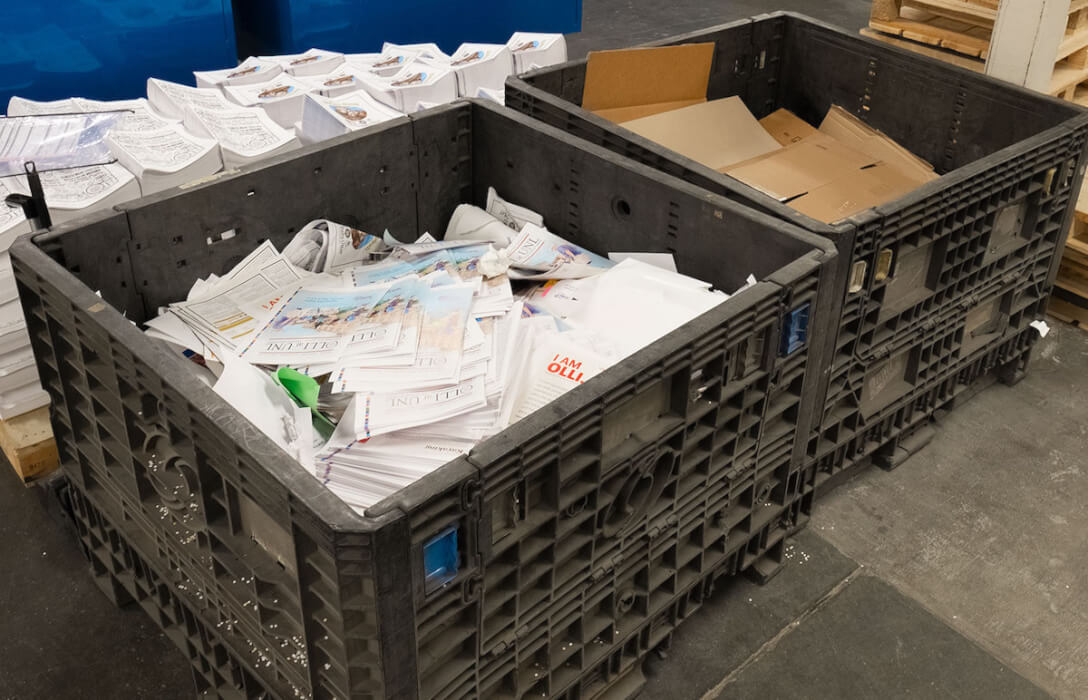 There's a lot of talk about recycling among print team members. "We talk about recycling and efforts to keep waste down as a part of the reduce-and-recycle part of our operations," said Travis. "It probably comes up at least once a month in one form or another." Check out this graphic to see how many tons of materials we've recycled each month for the last year. (Spoiler alert: We've recycled more than 230 tons of materials in the last year alone! Numbers come from our friends at First Star Recycling.)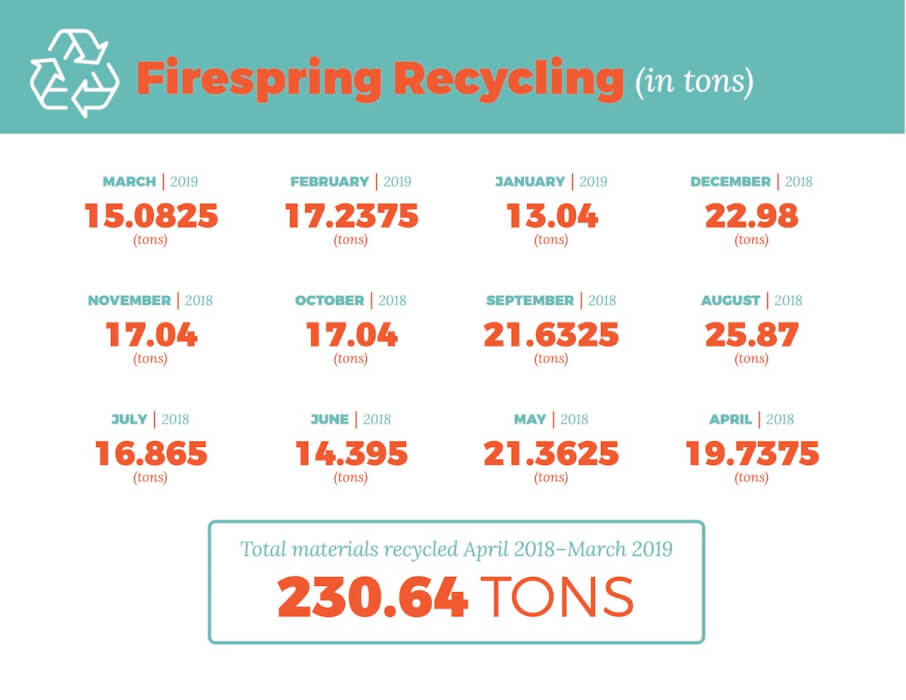 Eco-friendly Materials
The last part of our environmental sustainability equation is choosing materials that do as little harm as possible. That means non-toxic, non-hazardous inks and glues are used throughout the print floor wherever possible.
Eco-solvent ink is the go-to for our print team. The product earned its "eco-solvent" title due to the sustainable materials used to create it. "We did just upgrade our perfect bound glue to a non-toxic glue as well," Travis added.
All the excess ink we have is gathered in a bin and recycled. Our signage and display specialist, Amanda Russell, even created an art project out of ink waste that would have otherwise been thrown out, turning it from trash into a treasure. You can see her works of art during our tour!
We take sustainability seriously, and encourage others in our community to do the same. As Travis put it, "we do what we can to reduce, reuse, recycle—but in the grand scheme of things, we're only one printer." A printer with a much smaller carbon footprint thanks to the efforts of our print team. How will you make an impact this Earth Day? If using the services of a print shop that strives for sustainability sounds like a good place to start, give us a call!