After two years of being mostly grounded from crowded expo halls, you (and your trade show display) might be feeling a little trade-show rusty. Or your booth may feel "so 2020," and you may be jonesin' for some cool updates and innovative features. We get it.
Whether you need a few design adjustments or a total overhaul, we can elevate your trade show vibe and get your display and trade show materials looking better than ever—but first, let's talk about how to really know what you need.
Start by answering a few questions:
1. Do you have booth envy?
Maybe you're satisfied with what you currently have, but still—you've strolled the expo and noticed a few cool elements you'd like to incorporate into your own trade show experience. A hanging feature, cool lighted signs, a charging station for guests whose battery is on 10%—whatever you've seen that's got you salivating all over your branded swag, make a plan to add it to your own booth. It doesn't require a total overhaul, and it's probably an easy fix.
"Whether you have a current display that needs new graphics or want an entirely new setup. I'd love to meet and discuss all of the options we have available including creative ideas to set your booth space apart from your competition." Janet Wurtz, Trade Show Product Specialist, Firespring
2. Do you wish for some flashy new tech attractions?
Maybe that charging station we just mentioned would be a nice attraction, or tablets that provide an interactive experience, or big screens with videos or digital displays that explain the benefits of your products and services. If you haven't incorporated any type of fun tech experience to wow guests and draw in passersby, it's 2022—what are you waiting for?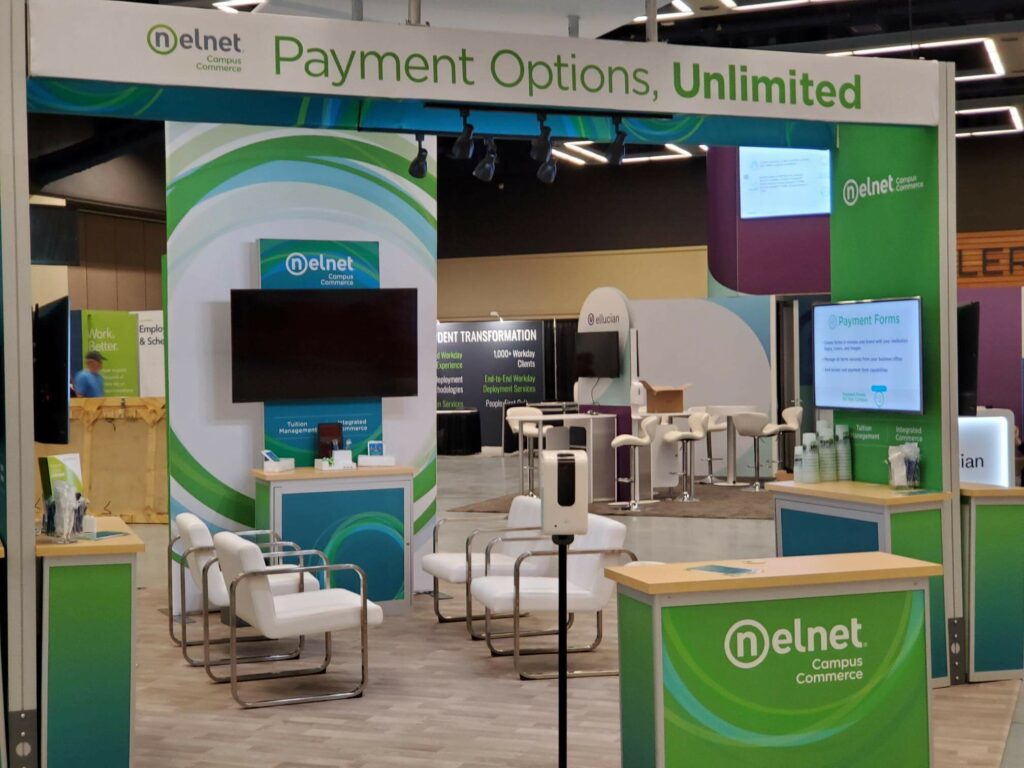 3. Are you attracting guests who really aren't leads?
Maybe your signage and graphics aren't clearly communicating who you are or what you do. Your booth colors might not be appropriate for your brand, giving people a different impression than you intend. If you find a lot of people stopping by and asking basic questions like, "So, what do you guys do," and just dipping into your candy bowl, it might be time to consider investing in signage and graphics that are better at communicating who you are and what you offer so you attract the right people.
4. Have you refreshed your brand and now your booth feels a little off?
Maybe you slightly changed your logo or updated your colors, but your display and materials are still the same ol', same ol'. You may not need to start completely over, but you should definitely update the parts of your booth that are inconsistent, even a little, with your brand refresh.
Maybe you need to swap out your signage or add new elements like banner stands, hanging signs or custom displays. Maybe you need to update the takeaways you hand out, or your brochures or branded swag or even the polo shirts you're sporting with your old logo. Consistency is key if you want to make an impression that sticks.
5. Have you cobbled together bits and pieces over the years that make your booth appear disjointed?
We get it, there are budget constraints, and you want to be financially responsible by only getting what you need, and so adding this piece here and that piece there and this sign here . . . it seems like a good idea.
But if you've been cobbling for longer than 2 or 3 years, we have to show you a little tough love and say it's time to stop. This is a situation where it's better to Marie Kondo that cobbled-together booth ("thank you for all the trade show joy you gave us") and put that baby out to the expo pasture. Especially as everyone is emerging from their homes and into the big, bright, beautiful world of expo halls once again, it's time to set up shop with something that looks sharp, seamless, cohesive and professional.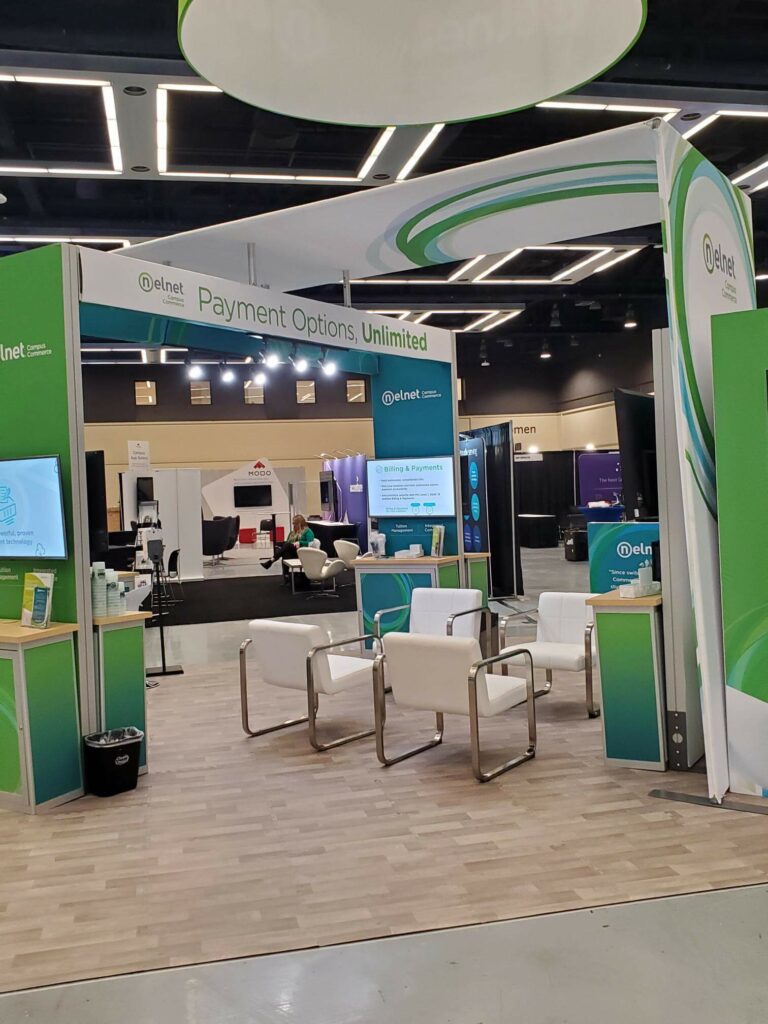 6. Is your trade show display looking a little "used?"
Displays take a lot of wear, tear and damage over time, and if yours is scuffed, scratched and falling to pieces, that's not a good look for your brand. If you need to start over, that's okay—you have lots of options to stay within your budget. You don't have to go crazy with the latest and greatest of everything, and Firespring can work with you to create a display that gives you the biggest bang for your buck. You can always add, expand and finesse as you go along.
7. Does your booth feel too generic?
If your display is in good condition and has the elements it needs to tell your brand's story, but it just seems to fall flat, you may just need a bit of pizzazz or customization to give it a wow factor and make it more "you."
You can use back-lighting, lightboxes or display cabinets to put the spotlight on key products.
Add items that fit your brand. How do you want people to feel when they visit your booth? If you want energy, add some bright colors or a digital display. If you want "comfy," add some seating that feels homey. If you want them to feel creative, maybe add an interactive section where they can play around with your products.
Adding elements to make your booth space more personalized is a really easy fix—and we'll be happy to talk you through that.
Now that you have some kind of idea about what your trade show exhibit needs, we have a few tips that'll help, regardless of whether you're overhauling the whole thing or just making an update or two.
Look at the next six months to a year: Is anything new happening at your company? Are you launching a new product or targeting a new market? Take these things into consideration when planning your trade show display and incorporate elements that promote that shiny new product or appeal to your new market.
Plan ahead! With room in your timeline, you'll avoid rush fees in the design process and construction, plus you'll also be able to think creatively, breathe without panicking and create the kind of experience you want your guests to have on the expo floor. If you wait until the last minute, it'll be more expensive, and you'll likely leave some key elements out, which may lead to that booth envy we talked about earlier.
Most importantly, work with an experienced trade show expert like our seasoned trade show guru, Janet. She'll help you manage every step of the process to create the perfect attention-grabbing exhibit space for your brand. And while we're a bit biased, we can confirm that our clients love working with her as much as we do.
"Janet and the Firespring team are wonderful to work with for conference setup and coordination. The detail in her work with confirmations, availability and follow-up with trade show companies has helped our team get back into trade shows with a bang in 2022. We have over 40 trade shows that we're working on with Firespring from the beginning of 2022 through September, with even more after that. Having a great partner is crucial to the success of our shows, and Firespring is a proven partner." —Jeralee Hahn, Marketing Director, Nelnet Campus Commerce
Let's blow off the dust and get your display ready for showtime. Learn more about how we can help.