Go beyond followers, likes and retweets and create brand awareness, loyalty and action.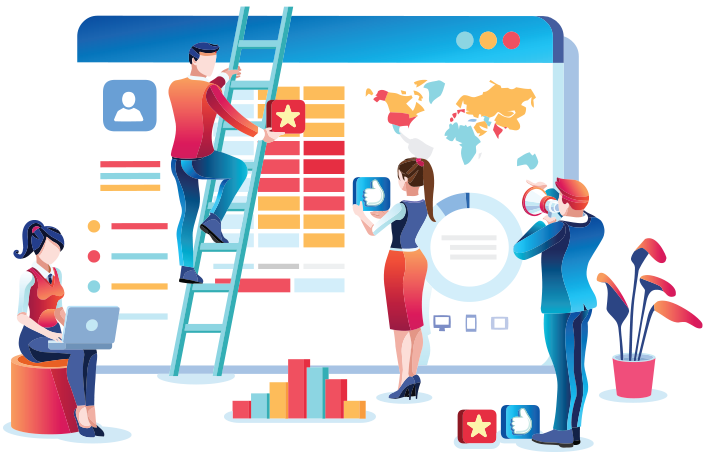 Cat memes and funny quotes are some of our favorites, to be honest—but effective social media campaigns go beyond entertainment and LOL. The best campaigns begin first with understanding your goals, followed by listening to your audience and then define a strategy to achieve success. Campaigns also require consistency. We're in for the long haul; let's kick your next social media campaign into gear and get it revved up to go the distance.
Does this social media story sound familiar?
You share a few posts, gain a few followers and start growing your social presence. But then things slow down, you run out of ideas and you have no idea what to post anymore. Worse yet, you forget to post, or no one on your team has the time or capacity to take it over. So, your accounts just sit there. Crickets.
We're not about sad stories! Let's turn that frown upside down and turn your social media story into something that'll make people love your brand.
Social media marketing campaigns from Firespring can include:
Research for target audience demographics.
Defined measurable goals.
Engagement calendars for each channel ranging from Facebook to TikTok.
Videos to tell your story and promote your message.
Podcasts and livestreams.
Results and effectiveness analyzed and optimized.
Social media activation campaigns.
Influencer and advocate engagement campaigns.
So many social media platforms, so little time?
If that's your current sentiment, tap our social media experts to help you hone in on where your audience is, what engages them best and create content that makes a difference.
What our clients are saying.
Etiam id est eu ligula tincidunt interdum. Phasellus enim est, hendrerit quis ornare in, ullamcorper a purus. Donec bibendum ex gravida, ornare magna at, maximus tellus. Nulla aliquet sem eget leo placerat suscipit ac a massa.
Need a partner to help execute your marketing? Our commercial printing and web development teams can help.
When you work with us, you're getting far more than just a marketing agency. We offer commercial printing and teams of experienced web development professionals to help you fulfill your variable data direct mail projects, implement your marketing campaigns and build your website to establish a comprehensive brand experience for your target audience.