Amplify your message. Reinforce your digital marketing with TV, radio and print media campaigns.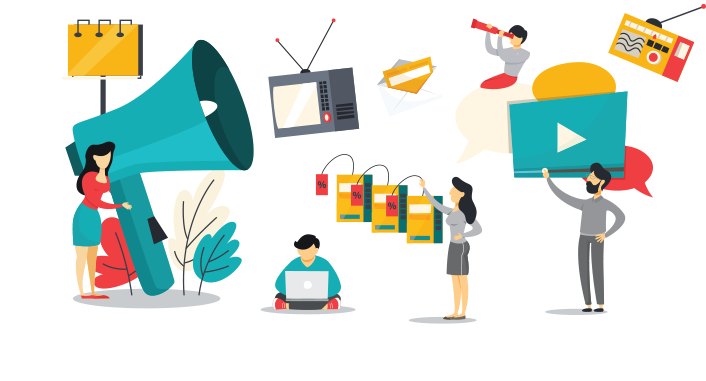 Don't underestimate the value of traditional marketing channels. While digital marketing is all the rage, your audience lives life beyond their devices. Grab their attention with billboards, bus wraps, theater placements, print, TV and radio ads and more. When you can integrate your digital campaigns with traditional channels, ahhh—that's the sweet spot of marketing.
Marry your offline marketing efforts with your digital marketing strategy.
When we help you build your traditional TV, radio and print campaigns, we create media assets that can be leveraged across all marketing channels to maximize the return on your investments. TV spots for YouTube. Radio spots. Social media engagements. Print materials as visuals for your website and social platforms.
This isn't a "this or that" conversation; it's more like "all this and more."
Your marketing strategy will work best when every tool and channel is in sync. Good thing we know all the moves.
Start your traditional media marketing campaign today.
Firespring started in the print industry, helped pioneer the digital and is now an expert at putting all the pieces together in a way that maximizes your ROI. That's our unique niche in the market, and your pathway to successful marketing. Let's get it.
What our clients are saying.
Etiam id est eu ligula tincidunt interdum. Phasellus enim est, hendrerit quis ornare in, ullamcorper a purus. Donec bibendum ex gravida, ornare magna at, maximus tellus. Nulla aliquet sem eget leo placerat suscipit ac a massa.
Need a partner to help execute your marketing? Our commercial printing and web development teams can help.
When you work with us, you're getting far more than just a marketing agency. We offer commercial printing and teams of experienced web development professionals to help you fulfill your variable data direct mail projects, implement your marketing campaigns and build your website to establish a comprehensive brand experience for your target audience.