A Guide to Choosing Your Perfect Print Campaign
When we think about the HUGE variety of print options at the Firespring print shop, we can't help but feel like kids in a candy store. We get up every day pumped to take any print idea you dream up and turn it into a powerful communication tool. Print marketing materials are bright, engaging, exciting and stronger than ever as a memorable marketing tactic, so we are all in on creative print.
The sheer amount of choices can seem overwhelming, but we're here to help you select the best print marketing materials with confidence. Our most popular print formats are listed below—with all the bells and whistles that make them each unique assets for your next marketing campaign. But why stop at one printing tactic? Marry multiple materials together to make your messages resonate far and wide.
Join us in the wide world of print marketing and let's make your next campaign shine.
Postcards
Got one bold, snappy message to get across? Postcards make it loud and clear while being short and sweet. They are a great cost-effective print option because they're small and don't require envelopes, so you can get your audience's attention on a budget.
The key to a successful postcard mailing is bright visual appeal and straightforward messaging—these elements will make the quickest impression. And with design help from Firespring, your brand will sparkle through.
Bonus Fact: Direct mail, like postcards, evokes emotion. According to a U.S. Postal Service survey, 56% of respondents said receiving mail is a "real pleasure."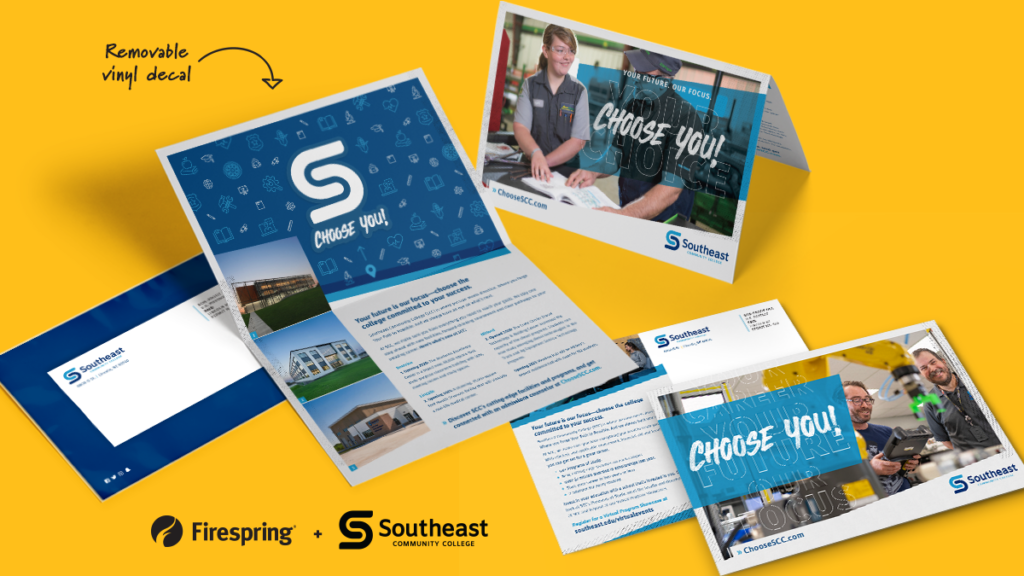 Brochures
This tried and true marketing tactic allows you to provide comprehensive information to prospective customers/donors. Brochures can be evergreen—serving purely as a way to teach people about your organization. They can also be an informative addition to event promotion and fundraising drives. A well-made brochure tells audiences just enough about your mission and encourages them to learn more.
Brochure Writing Tip: Make sure your text is concise and to the point. While brochures have the luxury of space to hold a lot of content, that content needs to be punchy. Brochures that are overwhelmed with text are less likely to get read, so make sure you have engaging visuals to draw readers into your message.
Specialty Mailers
There's something so exciting about opening your mailbox to find a big, fun-shaped envelope inside. Specialty mailers are intriguing and that makes them stand out over other pieces of direct mail.
And in an era overloaded with impersonal digital advertising, an attention-grabbing piece of mail that feels custom made is a breath of fresh air. Plus, the response rate for direct mail is nine times higher than email according to the Data and Marketing Association. So getting creative with your mail certainly pays off.
Car Wraps
Okay, picture this: You're stopped at a red light and the truck in front of you is covered in bright colors and funny copy. It catches your eye, and you pause to read the copy. Two days later, you're walking down the street and the truck passes by again. This time, you pull out your phone and search for the company advertised on the truck.
Basically, car wraps are SUPER memorable. Your company cars or delivery vehicles drive around town all day, so they might as well grow your community's awareness of you. In the United States today, "individual vehicle advertising generates between 30,000-70,000 daily impressions," according to ARD Ventures. This off-the-wall tactic is one of the quickest ways to become a household name in your community.
Banners
Banners are a classic print piece and an essential for any event. They make a big statement, and they come in nearly any shape and size. They attract attention from foot traffic, and they are durable enough to be reused.
By building up your organization's collection of banners, you can instantly give any event or campaign a boost of professionalism. Banners can guide your visitors through your building, make them feel welcome and provide a touch of class and cohesion.
Apparel
Custom apparel makes your marketing mobile and builds community awareness. This cost-effective marketing tactic is one piece of advertising that people are truly happy to receive and show off. And when people wear your brand with pride, your credibility instantly skyrockets.
Promo Items
With a strong collection of branded promo items, your organization will always be ready for a conference, meeting, giveaway, festival or convention. Promo items have staying power because you can keep them in stock for a long time, and your audience can use your branded products over and over again. Everybody loves free stuff, and when your customers/donors reach for a pen—they might as well reach for one with your logo on it.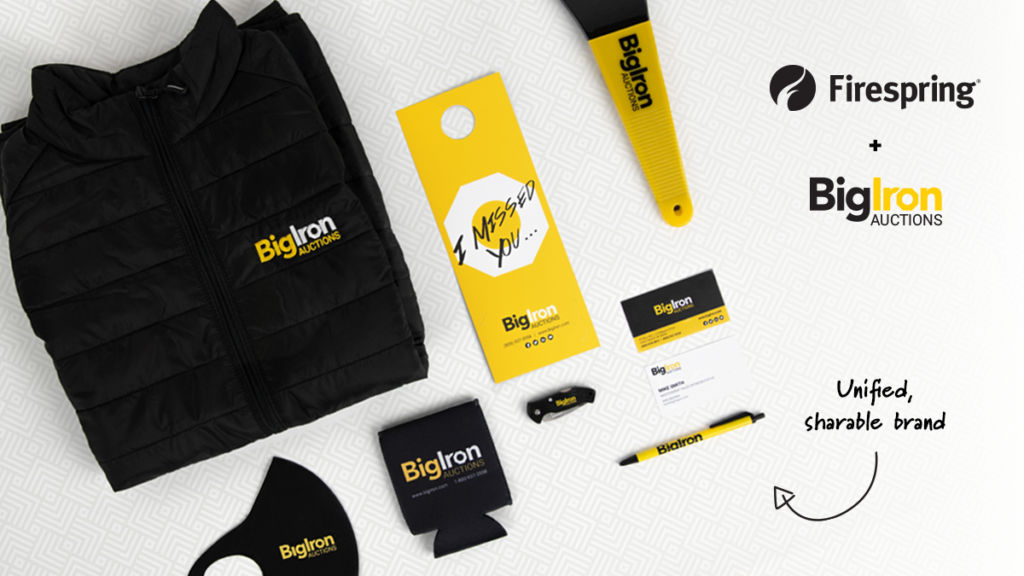 Supplemental Digital Marketing
Yeah so, this isn't a print marketing material, but just hear us out. Digital marketing can really effectively complement and amplify the message of your printed marketing efforts. We recommend that you use print marketing to drive your customers/donors back to your website so they can learn more and get in contact with you. We actually have 5 Easy Ways to Marry Print and Digital Marketing that can instantly take your print efforts to a whole new level.
Got some ideas going for your next campaign now? Let's make them happen! Reach out to the Firespring print team to see how we can help you with your print marketing needs.